Vicious (Villains #1) (Paperback)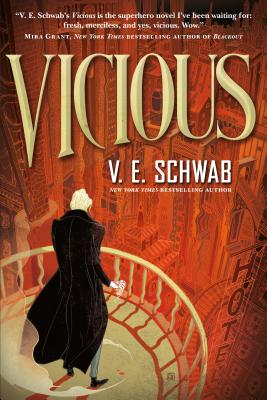 Other Books in Series
This is book number 1 in the Villains series.
Staff Reviews
---
Vicious by V.E. Schwab is her first adult novel, and her book is sure to cause  excitement. Her world of ExtraOrdinaries and the monsters that we bury deep inside us has been well developed and written in such a compelling fashion that people are going to want more.  Victor and Eli have always had a bit of complicated friendship.  Before Eli came to Victor's college, Victor was easily the top ranked student and was given all of the special privileges that came along with that.  Not only has Eli surpassed him in school, but he also got the  girl.   For the most part Victor can look passed all of this, but then Eli decides to out do him on his thesis topic.  Eli believes that people become EO, or ExtraOrdinary people who are given a supernatural power, under the stress of a near death trauma.  Naturally, Victor decides to one-up him and proclaims that they should attempt to become EOs.  This is the story of what follows and how best friends can easily be turn into archenemies.
I really liked Schwab's dark world.  Not only do the characters have an evil side lurking within, but the entire atmosphere of the town seems  a little darker and sinister.  Schwab did a great job of creating a new mythology of supernatural people.  In some respects I felt her "superheros" were more human than most mythologies, although the characters would be the first to claim that they are no longer human.  It was really fascinating how the characters felt even more broken after they came back to life as an EO.  You would think most of them would be relieved and thrilled with their new "gift", but in Vicious the characters felt numb and had a lack of a conscience.  I thought this was a nice twist to the standard supernatural psyche that tends to create heroes.  Additionally, their darker nature was more prevalent than you would expect, but at the same time there was some good in most of them too, just buried.  Scwhab showed more depth to her mythology by not keeping her characters locked into the traditional good or bad superhero.  My favorite part of this story is the way that Schwab tells it.  She jumps around from the present day, to several years early, to a few days before.  This sounds confusing but it really wasn't.  Instead it made the reading engaging since you didn't know how all the characters came to be where they are now.  It was really exciting to piece together Victor and Eli's past relationship.  I would be happy if this a stand alone book, but I am pretty sure I would jump up and down if Schwab decides to continue with these characters and world
— Jody
Description
---
A masterful tale of ambition, jealousy, desire, and superpowers.
Victor and Eli started out as college roommates—brilliant, arrogant, lonely boys who recognized the same sharpness and ambition in each other. In their senior year, a shared research interest in adrenaline, near-death experiences, and seemingly supernatural events reveals an intriguing possibility: that under the right conditions, someone could develop extraordinary abilities. But when their thesis moves from the academic to the experimental, things go horribly wrong.
Ten years later, Victor breaks out of prison, determined to catch up to his old friend (now foe), aided by a young girl whose reserved nature obscures a stunning ability. Meanwhile, Eli is on a mission to eradicate every other super-powered person that he can find—aside from his sidekick, an enigmatic woman with an unbreakable will. Armed with terrible power on both sides, driven by the memory of betrayal and loss, the archnemeses have set a course for revenge—but who will be left alive at the end?
In Vicious, V. E. Schwab brings to life a gritty comic-book-style world in vivid prose: a world where gaining superpowers doesn't automatically lead to heroism, and a time when allegiances are called into question.
"A dynamic and original twist on what it means to be a hero and a villain. A killer from page one…highly recommended!" —Jonathan Maberry, New York Times bestselling author of Marvel Universe vs The Avengers and Patient Zero
One of Publishers Weekly's Best Fantasy Books of 2013
About the Author
---
V. E. Schwab is the author of the New York Times-bestselling Shades of Magic series, as well as The Near Witch, The Archived, and Vicious. The product of a British mother, a Beverly Hills father, and a southern upbringing, Schwab has a penchant for tea and BBC shows, and a serious and well-documented case of wanderlust.
Praise For…
---
Entertainment Weekly's 27 Female Authors Who Rule Sci-Fi and Fantasy Right Now

"Fresh, merciless, and, yes, vicious. Wow." —Mira Grant, New York Times bestselling author of the Newsflesh Trilogy
"Schwab's characters feel vital and real, never reduced to simple archetypes... In a genre that tends toward the flippant or pretentious, this is a rare superhero novel as epic and gripping as any classic comic. Schwab's tale of betrayal, self-hatred, and survival will resonate with superhero fans as well as readers who have never heard of Charles Xavier or Victor von Doom." —Publishers Weekly, starred review
"A fun, morally-flexible revenge tale...Vicious methodically ratchets up the tension as Victor and Eli circle each other for the inevitable kill." —Daniel H. Wilson, NYT bestselling author of Robopocalypse
"Schwab gathers all the superhero/supervillain tropes and turns them on their sundry heads.... I could not put it down." —F. Paul Wilson, New York Times bestselling author of the Repairman Jack series
"Vicious is dark and intricate and daring, twisting back and forth through time and morality and life and death until you can't turn the pages fast enough. I loved it." —Dan Wells, author of I Am Not a Serial Killer
"An epic collision of super-powered nemeses. The writing and storycraft is Schwab's own superpower as this tale leaps off the page in all its dark, four-color comic-book glory." —Chuck Wendig, author of Blackbirds
"Utterly brilliant. Schwab takes the notion of superhero fiction and bashes it on its head...prepare to be thoroughly entertained." —Jackie Kessler, coauthor of Black and White
"A noirish cross between the X-Men and 'The Count of Monte Cristo.' You won't be able to stop turning the pages." —Alex Bledsoe, author of The Hum and the Shiver
"V.E. Schwab writes with the fiendish ingenuity, sardonic wit, and twisted imagination of a true supervillain." —Greg Cox, New York Times bestselling author