Anna Dressed in Blood (Anna Dressed in Blood Series #1) (Paperback)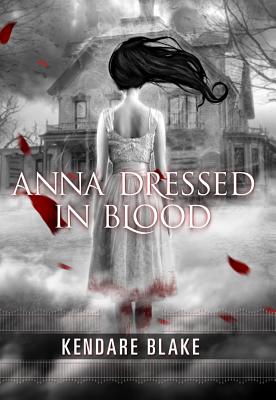 $10.99
Usually Ships in 1-5 Days
Other Books in Series
This is book number 1 in the Anna Dressed in Blood Series series.
Staff Reviews
---
What a fantastic ghost story filled with horror, revenge, grief, all mixed in with compassion, friendship, and love.  Anna Dressed in Blood by Kendare Blake is the story of a teen boy, Cas, whose sole mission in life is to destroy ghosts who are reeking havoc on people.  His job has him traveling all of the time, making it very difficult to have friends and a normal life.  Of course, other people tend to make his job harder by trying to help, so it really works best that he is alone.  Everything is great until Cas decides to destroy the infamous Anna Dressed in Blood.  For some reason this ghost is different,  in fact this town is different.  Suddenly Cas' cover stories are being dissected and more people are getting involved in his ghost hunting, making his task even harder.
Blake did such a incredible  job creating the horror atmosphere.  You could really visualize how scary Anna would be with her blood dripping dress and dark veins.  I also thought it was great how Cas kept thinking the house was  alive.  This just made the scenes a little creepier and fun to read.  Blake did a good job of balancing the horror with the humor.  Her characters were constantly lightning the mood with sarcastic comments and off-handed teenager remarks.  I really liked the concept of the book and was happy to read something dark that didn't involve angels or vampires.  I am looking forward to the sequel, Girl Of Nightmares,  but at the same time I am wondering where the story will go next.
— Jody
Description
---
From Kendare Blake, the #1 New York Times bestselling author of Three Dark Crowns, a beautiful and haunting ghost story

Cas Lowood has inherited an unusual vocation: He kills the dead.

So did his father before him, until he was gruesomely murdered by a ghost he sought to kill. Now, armed with his father's mysterious and deadly athame, Cas travels the country with his kitchen-witch mother and their spirit-sniffing cat. They follow legends and local lore, destroy the murderous dead, and keep pesky things like the future and friends at bay.

Searching for a ghost the locals call Anna Dressed in Blood, Cas expects the usual: track, hunt, kill. What he finds instead is a girl entangled in curses and rage, a ghost like he's never faced before. She still wears the dress she wore on the day of her brutal murder in 1958: once white, now stained red and dripping with blood. Since her death, Anna has killed any and every person who has dared to step into the deserted Victorian she used to call home.

Yet she spares Cas's life.

Kendare Blake's Anna Dressed in Blood is a 2011 Kirkus Best Teen Books of the Year title.
One of NPR's Top 5 Young Adult Novels of 2011.
About the Author
---
Kendare Blake holds an MA in creative writing from Middlesex University in northern London. She is the critically acclaimed author of Anna Dressed in Blood, Girl of Nightmares, and Antigoddess. She lives and writes in Lynnwood, Washington.
Praise For…
---
"Abundantly original, marvelously inventive and enormous fun, this can stand alongside the best horror fiction out there. We demand sequels." —Kirkus Reviews, starred review

"Anna Dressed in Blood is a dark and intricate tale, with a hero who kills the dead but is half in love with death himself. By the end of the book, you will be too. Spellbinding and romantic." —Cassandra Clare, #1 New York Times bestselling author of the Mortal Instruments series

"Cinematic and compelling. Blake's smooth combination of gore and romance should have little problem attracting the Twilight crowd." —Booklist

"It's the old boy-meets-girl story, if the boy is a wry, self-destructive ghost-hunter bent on avenging his father and the girl is a homicidal ghost trapped in a house full of everyone she's ever murdered. Needless to say, Cas and Anna are my new favorite twosome. When I got to the last page, I flipped back to the first." —Holly Black, New York Times bestselling author of Red Glove