To Fudge or Not to Fudge (Candy-Coated Mystery with Recipes) (Mass Market Paperbound)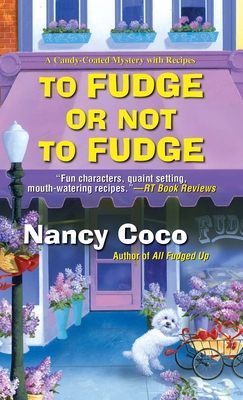 Staff Reviews
---
Nancy Coco's Candy-Coated mysteries series is so much fun and a perfect summer read. To Fudge or Not to Fudge is book 2 in the series. Set on the idyllic Mackinac island on Lake Michigan where fudge reigns supreme, Allie has happily settled into running her family business, the historic McMurphy Hotel and Fudge Shop. She has decided to put behind her the past debauchery about the murder of her grandfather's biggest rival and focus on work, until her lovable dog Marshmallow finds human bones scattered throughout the island. Now she finds herself knee deep in another murder investigation and has somehow managed to reluctantly get herself on a reality cooking show.
This was such a fun read! I loved the atmosphere of the island and the townspeople. The story takes place right at the beginning of June and you can feel all the travelers, the sun, and the carefree attitude that comes along with summer. Coco's character Allie is a fun, determined and entertaining sleuth. This is very much a story where you think, seriously, nothing else can possible go wrong - and then of course it does. I am not much of a cozy mystery reader, but I found myself quickly ordering the next book in the series. 
— Jody
Description
---
"Fun characters, quaint setting, mouth-watering recipes." --RT Book Reviews Life is sweet for Allie McMurphy, proud owner of Historic McMurphy Hotel and Fudge Shop on Mackinac Island--until murder and deception leave a bitter taste. . . Mulch Ado About Murder With summer in bloom and tourists afoot, Allie is out walking her pup, Mal, when the curious canine digs up a bone from under a flowering lilac bush. The bone leads to a toe that's missing a body. For the successful confectionaire it's only the first in a series of sour events in the middle of the island's Lilac Fest. When her stint on a cooking reality show swirls up a trail of foul play, Allie will have to outwit a cunning killer if she wants to continue living la dolce vida. . . Praise for All Fudged Up "Fun, lively." --JoAnna Carl "A sweet treat with memorable characters, a charming locale, and satisfying mystery." --Barbara Allan "A sweet confection of a book." --Joanna Campbell Slan Help Support Pet Adoption--See details inside.
About the Author
---
Nancy Coco is the byline chosen by popular author Nancy J. Parra for use exclusively with the Candy-Coated Mysteries series. With degrees in engineering, journalism and a MA in Writing Popular Fiction, Nancy has published in cozy mystery, romantic suspense, and sweet western historical romances genres. An Air Force veteran who rose to the rank of sergeant, Nancy is a member of an on-line group of female veterans who are authors--"Military Women Who Have Turned Sword to Pen." The group's website is www.romvets.com. Nancy is also a member of Mystery Writers of America and Sisters in Crime. She has given workshops on a number of writing topics and enjoys doing author panels at fan conferences such as Malice Domestic and Bouchercon. She lives in Portland, Oregon with her dog--a bichonpoo affectionately known as Little Dog on Nancy's Facebook and Twitter accounts. Check out Nancy's website at www.nancyjparra.com.