City of Bones (Compact Disc)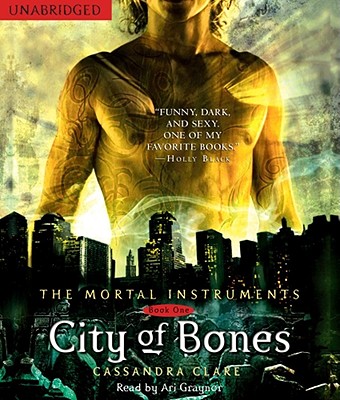 Email or call for price
Special Order - Subject to Availability
Staff Reviews
---
City of Bones by Cassandra Clare is the first book in the Mortal Instruments series. We meet Clary and Simon, who are your typical teenagers and best friends. Their entire lives have been very humdrum, perhaps even dull, until Clary spots a demon being killed by Alec, Isabelle, and Jace. Naturally, Clary is outraged at witnessing a murder, until she watches the body disappear; now things get interesting. Clary learns that her three new companions are Shadowhunters and are sworn to hunt down and kill demons. Her new friends, as well as Simon and herself, soon embark on an adventure to find Clary's mother who has been attacked and taken by a demon.
This is a fun action-packed young adult fantasy book. The characters are constantly overcoming one obstacle just to stumble onto another, making this an exciting read. The interactions between characters are entertaining, but I am hoping Clare develops them more as the series progresses. The characters were just starting to grow at the very end of the book. I also like that Clare keeps you on your toes towards the end of the book by adding a fun twist to the plot. It is sure to make the next books even better. If you are looking for a fun new series to start that has more than vampires in it, this would be a great choice.
— Jody
Description
---
A deliciously exotic urban fantasy that is sexy, mysterious and dangerously good fun!
When 15-year-old Clary Fray heads out to the Pandemonium Club in New York City, she hardly expects to witness a murder -- much less a murder committed by three teenagers covered with strange tattoos and brandishing bizarre weapons. Then the body disappears into thin air. It's hard to call the police when the murderers are invisible to everyone else and when there is nothing -- not even a smear of blood -- to show that a boy has died. Or was he a boy?
This is Clary's first meeting with the Shadowhunters, warriors dedicated to ridding the earth of demons. It's also her first encounter with Jace, a Shadowhunter who looks a little like an angel and acts a lot like a jerk. Within twenty-four hours Clary is pulled into Jace's world with a vengeance, when her mother disappears and Clary herself is attacked by a demon. But why would demons be interested in ordinary mundanes like Clary and her mother?And how did Clary suddenly get the Sight? The Shadowhunters would like to know...
Exotic and gritty, exhilarating and utterly gripping, Cassandra Clare's ferociously entertaining fantasy takes readers on a wild ride that they will never want to end.
Praise For…
---
"Funny, dark, and sexy. One of my favorite books." -- Holly Black



"City of Bones has everything: vampires, werewolves, faeries, true love, and stuff that blows up. What's more, Clare's characters are brilliant -- she better not kill any of them off in the next two volumes!" -- Justine Larbalestier, author of Magic or Madness



"Prepare to be hooked."




"Wildly popular…think Twilight on steroids."



"This version of New York, full of Buffyesque teens who are trying to save the world, is entertaining and will have fantasy readers anxiously awaiting the next book in the series."



"Lush and fun."