Fried Green Tomatoes at the Whistle Stop Cafe (Abridged / Compact Disc, Abridged)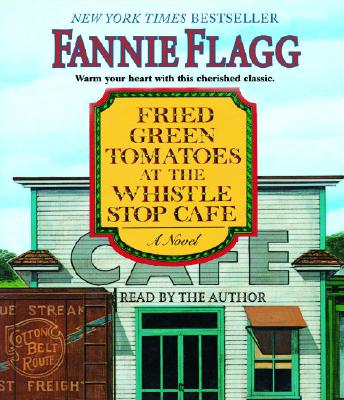 Description
---
An American classic resplendent with the charm, grace, and grit of all good southern literature, Fried Green Tomatoes at the Whistle Stop Cafe is Fannie Flagg's enduring tale of the beloved folks who live in a small Alabama town. At its center are some truly remarkable women, connected by a place and a generosity of spirit grounded in family, good friends, and good food.
The story begins in 1985 with the friendship between shy, middle-aged Evelyn Couch, sadly aware she's gotten "lost along the way," and Ninny Threadgoode, an eighty-seven-year-old resident of the Rose Terrace Nursing Home in Birmingham. Evelyn soaks up the older woman's stories of Whistle Stop, Alabama, where Ninny's irrepressible sister-in-law Idgie and Idgie's friend Ruth ran a cafe–the center of life in this small town. Indeed, it is the story of wild, wonderful Idgie, and her big sense of humor and bigger heart, that give Evelyn the courage to find her own happiness.
About the Author
---
Fannie Flagg began writing and producing television specials at age nineteen and went on to distinguish herself as an actress and writer in television, films, and the theater. She is the author of the" New York Times "bestsellers "Daisy Fay and the Miracle Man"; "Welcome to the World, Baby Girl!"; "Standing in the Rainbow"; and "A Redbird Christmas." Flagg's script for "Fried Green Tomatoes "was nominated for both the Academy(R) and Writers Guild of America awards and won the highly regarded Scripters Award. Flagg lives in California and in Alabama.
Praise For…
---
"The people in Miss Flagg's book are as real as the people in books can
be. If you put an ear to the pages, you can almost hear the characters
speak. The writer's imaginative skill transforms simple, everyday events
into complex happenings that take on universal meanings."

--Chattanooga Times

"This whole literary enterprise shines with honesty, gallantry, and love
of perfect details that might otherwise be forgotten."

--Los Angeles Times

"A sparkling gem."

--Birmingham News

"Watch out for Fannie Flagg. When I walked into the Whistle Stop Cafe she
fractured my funny bone, drained my tear ducts, and stole my heart."

--Florence King, Author of Confessions of a Failed Southern Lady


"Admirers of the wise child in Flagg's first novel, Coming Attractions,
will find her grown-up successor, Idgie, equally appealing. The book's
best character, perhaps, is the town of Whistle Stop itself--too bad
trains don't stop there anymore."

--Publisher's Weekly