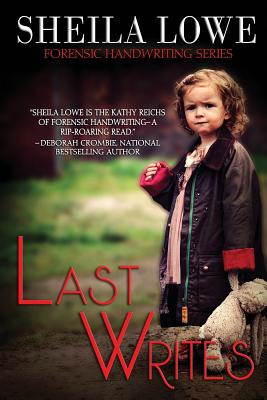 $14.94
Usually Ships in 1-5 Days
Staff Reviews
---
Last Writes by Sheila Lowe The forth in the Claudia Rose series is just as compelling as the first three. In this novel, Claudia is drawn into a mystery surrounding the disappearance of a young girl. After viewing the girl's father's handwriting on a cryptic note, Claudia decides that she must help find the girl. She and her best friend head into the mountains for an up close and personal opportunity to look at the handwriting of a group involved in a religious cult. Once Claudia reaches the religious group's compound, she discovers that she only has a few short days to find the girl before she is killed. This book keeps you guessing until the end. If you want to learn about handwriting analysis, this series will keep you on your toes and help you learn along the way.
— Jody
Description
---
"A fascinating view into the world of handwriting analysis...captivating."-Robin Burcell, Author of "The Bone Chamber" Claudia's friend Kelly learns that she's an aunt when her estranged half-sister, Erin, shows up at her home in desperate need of help. Erin and her husband have been living quiet lives as members of the Temple of Brighter Light in an isolated compound. But now her husband and young child have disappeared, leaving behind a cryptic note with a terrifying message.Seizing an opportunity to use her special skills as a forensic handwriting expert, Claudia becomes one of the few outsiders ever to be invited inside the temple's compound. She has only a few days to uncover the truth about Kelly's missing niece before the prophecy of a secret ancient parchment can be fulfilled and a child's life is written off for good...
About the Author
---
Like her fictional character Claudia Rose in the award-winning Forensic Handwriting Mysteries series, Sheila Lowe is a real-life forensic handwriting expert. She holds a Master of Science degree in psychology and has taught forensic handwriting examination at the University of California Riverside Campus in the CSI Certificate program and at the University of California Santa Barbara Campus in the Discovery program. She's also the author of the internationally acclaimed The Complete Idiot's Guide to Handwriting Analysis and Handwriting of the Famous & Infamous, as well as the Handwriting Analyzer software. Sheila's analyses of celebrity handwritings are often seen in the media. Connect with Sheila Lowe at www.claudiaroseseries.com or www.sheilalowe.com.