Running Out of Time (Paperback)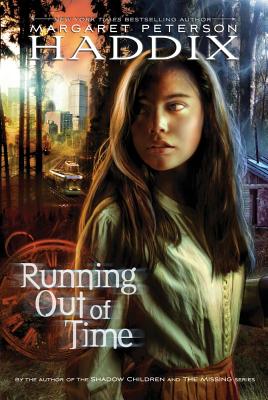 $7.99
Usually Ships in 1-5 Days
Staff Reviews
---
Running Out of Time by Margaret Peterson Haddix is an  award-winning book for children that is also great for adults. I loved it.  The story is of a family living in the 1840's isolated from everyone but the small community around them.  They live in a one room cabin, go to a one room school and have just what you would expect from that era.  But, when children begin to get sick and die, Jessie's mother pulls her aside and shares a huge secret.  It is really 1996 and they are living as an exhibition for the rest of the world to visit and see what life was like.  Her mom needs her to escape and get help as the one thing that was promised was access to medicine which is now being denied.
This book was great.  It captivated you from the start and was such a good read that I was disappointed when it was finished.  The moral and ethical question of telling someone the truth of their existence and what is "real" continue to make me think about the book.  The book is so apropo.  No matter your age, this is a wonderful story.
— Tricia
Description
---
Run For Your Life
Jessie lives with her family in the frontier village of Clifton, Indiana, in 1840 -- or so she believes. When diphtheria strikes the village and the children of Clifton start dying, Jessie's mother reveals a shocking secret -- it's actually 1996, and they are living in a reconstructed village that serves as a tourist site. In the world outside, medicine exists that can cure the dread disease, and Jessie's mother is sending her on a dangerous mission to bring back help.
But beyond the walls of Clifton, Jessie discovers a world even more alien and threatening than she could have imagined, and soon she finds her own life in jeopardy. Can she get help before the children of Clifton, and Jessie herself, run out of time?
About the Author
---
Margaret Peterson Haddix is the author of many critically and popularly acclaimed YA and middle grade novels, including the Children of Exile series, The Missing series, the Under Their Skin series, and the Shadow Children series. A graduate of Miami University (of Ohio), she worked for several years as a reporter for The Indianapolis News. She also taught at the Danville (Illinois) Area Community College. She lives with her family in Columbus, Ohio. Visit her at HaddixBooks.com.
Praise For…
---
Joan Lowery Nixon Running Out of Time is a highly imaginative, absolutely terrific first novel.

School Library Journal (starred review) Absorbing...gripping...convincing and compelling. Fans of time-travel or historical novels...will look forward to more stories from this intriguing new author.