The Painted Boy (Hardcover)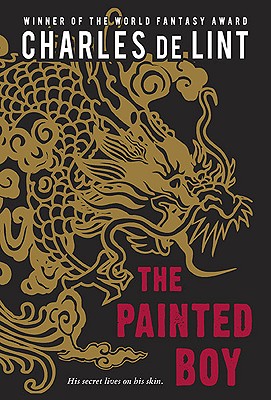 Staff Reviews
---
Charles de Lint once again shows us that the world is indeed a magical place in his latest young adult novel, The Painted Boy. This is a story about a young Chinese boy whose destiny is to become the next dragon in the Yellow Dragon clan. He has been training for several years with his grandmother, but is still confused as to what the dragon is and his purpose. Jay knows that the dragons have protected the Chinese emperors for years, but now they have no one specific to protect and he must find his own cause. Jay's grandmother decides that Jay must travel and find his way, so she has him randomly point to a location on a map. This act takes him to a small town in southern Arizona that is being over run with gangs and drugs. It doesn't take long for Jay to realize that this is where his protection as the dragon is most needed.
This book was so much fun to read. Jay encounters so many different types of characters, both magical and "normal", to keep you completely absorbed in the story. His own magical journey from average boy who is worried about girls, to a true yellow dragon with the responsibility to protect an entire town was great. However, I found myself routing for Jay to have some normalcy in his young adult life and not just the magic of the dragon. This internal battle was so well portrayed throughout the novel. De Lint does a fabulous job of showing the wonder and beauty of the desert. I found myself wanting to go out for hike and look at the desert with a new perspective. If you are looking to find magic in your ordinary world, read a De Lint novel. He captures the urban magical world perfectly, just remember to "look sideways".
— Jody
Description
---
Jay Li should be in Chicago, finishing high school and working at his family's restaurant. Instead, as a born member of the Yellow Dragon Clan-part human, part dragon, like his grandmother-he is on a quest even he does not understand. His journey takes him to Santo del Vado Viejo in the Arizona desert, a town overrun by gangs, haunted by members of other animal clans, perfumed by delicious food, and set to the beat of Malo Malo, a barrio rock band whose female lead guitarist captures Jay's heart. He must face a series of dangerous, otherworldly-and very human-challenges to become the man, and dragon, he is meant to be. This is Charles de Lint at his best.
About the Author
---
Charles de Lint lives in Ottawa, Canada.