Minimalism: Live a Meaningful Life (Paperback)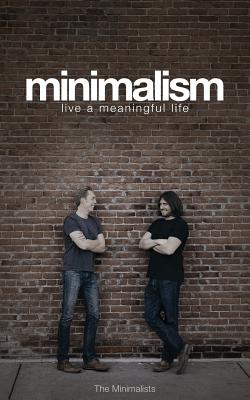 $20.39
Usually Ships in 1-5 Days
Staff Reviews
---
Minimalism:  Live a Meaningful Life  by Joshua Fields Millburn and Ryan Nicodemus is a fantastic book for people looking to live with more purpose.  Their philosophy is to remove the excess "stuff" in your life and live with greater intent.  This book is about their personal journeys to find their happiness and become a minimalist.  It was interesting to see how they both came to this discovery independently.  I really liked that both Millburn and Nicodemus told their stories very directly and with little preaching.  It was truly just about what was right for them.   They each felt that in order to be happy they had to de-clutter and de-stress their lives, even if this meant giving up money and possessions.  They completely changed the way they were living by changing their shopping habits and only living with things that were absolutely necessary.  This concept may fly in the face of our consumer driven society, but what a great message to learn.   I finished the book rethinking my need for material things (books do not count as material things) and putting more emphasis on people.
I am looking forward to reading their second book, Everything That Remains and hearing about what happens after the "stuff" is cleaned up and the focus has moved to  relationships,  service and doing rather than buying.
— Tricia
Description
---
Minimalism is the thing that gets us past the things so we can make room for life's most important things-which actually aren't things at all. At age 30, best friends Joshua Fields Millburn & Ryan Nicodemus walked away from their six-figure corporate careers, jettisoned most of their material possessions, and started focusing on what's truly important. In their debut book, Joshua & Ryan, authors of the popular website THE MINIMALISTS, explore their troubled pasts and descent into depression. Though they had achieved the American Dream, they worked ridiculous hours, wastefully spent money, and lived paycheck to paycheck. Instead of discovering their passions, they pacified themselves with ephemeral indulgences-which only led to more debt, depression, and discontent. After a pair of life-changing events, Joshua & Ryan discovered minimalism, allowing them to eliminate their excess material things so they could focus on life's most important "things": health, relationships, passion, growth, and contribution.
About the Author
---
THE MINIMALISTS, Joshua Fields Millburn and Ryan Nicodemus, write essays about minimalism and living a meaning a meaningful life with less stuff for their online audience of more than 100,000 monthly readers. They have been featured in the Wall Street Journal, CBS, NBC, FOX, NPR, CBC, Zen Habits, and numerous other outlets. More info at TheMinimalists.com.