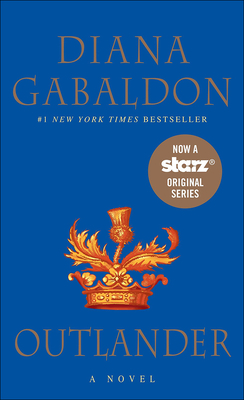 Staff Reviews
---
Diana Gabaldon's Outlander: This is the first book in the series and takes place in Scotland in both the mid twentieth-century and the mid eighteenth-century. Claire travels back to 1743 Scotland and is thrown into the world of intrigues and spies. Not only does she have to adjust to a new social/political life, but she finds herself falling for a warrior even though she is married back in 1945. This book was wonderful. It is full of details and emotions that will make you want to quickly continue on in the series.
— Jody
Description
---
Claire Randall is leading a double life. She has a husband in one century, anda lover in another...In 1945, Claire Randall, a former combat nurse, is back from the war andreunited with her husband on a second honeymoon--when she innocently touches aboulder in one of the ancient stone circles that dot the British Isles.Suddenly she is a Sassenach--an outlander--in a Scotland torn by war andraiding border clans in the year of our Lord...1743.Hurled back in time by forces she cannot understand, Claire's destiny in sooninextricably intertwined with Clan MacKenzie and the forbidden Castle Leoch.She is catapulted without warning into the intrigues of lairds and spies thatmay threaten her life ...and shatter her heart. For here, James Fraser, agallant young Scots warrior, shows her a passion so fierce and a love soabsolute that Claire becomes a woman torn between fidelity and desire...andbetween two vastly different men in two irreconcilable lives.Absorbing and heartwarming...lavishly evokes the land and lore ofScotland.
--Publishers Weekly Stunning
--Los Angeles Daily News It is a large canvas that Gabaldon paints, filled with strong passions andderring-do. Strong willed and sensual, Claire is an engaging modern heroineplopped down in a simpler, more primitive time.... Great fun ...marvelous andfantastic adventures, romance, sex ...perfect escape reading
--San Francisco Chronicle.