Ocean at the End of the Lane (Prebound)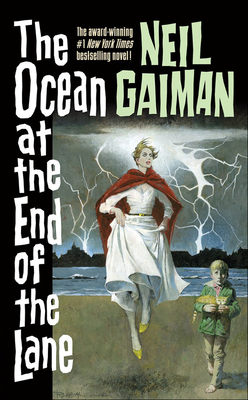 Staff Reviews
---
The Ocean at the End of the Lane by Neil Gaiman was an outstanding fantasy read.  It was a dark tale that at times had me a bit frightened, but is such an incredible story that I read it in a couple of sittings.  A middle-aged man heading to his home town  for a funeral decides to drive by his old family home.  The house is no longer the one that  he remembers, but that doesn't stop him from recalling the bizarre occurrences that happened the summer of his 7th year.    The more he remembers the more he realizes that something dark was unleashed and that somehow his old friend Letty found a way to protect him.
I am not typically a fantasy reader, but Gaiman's writing is so eloquent and picturesque that I found myself loving this book.  His characters were easy to relate to,  even though we are hearing the story from a 7 year old perspective.  It was easy to understand his feelings  and  why so much of what had happened to him alluded him.  This was a fantastic read that will stay with you long after you have been have finished.
— Tricia
July 2013 Indie Next List
---
"Gaiman is a magnificent storyteller, creating scenes so complete that you aren't just reading, but rather inhabiting a universe that's thoroughly believable yet truly otherworldly. The story's terror -- the claustrophobia and vulnerability of childhood, the way a child's wants, needs, and fears go unnoticed by adults, and the horrors that can result -- is perfectly balanced against the consolation of books, the magic of the natural world, and the power of those who do listen, understand, and take action to set the universe to rights at whatever cost to themselves. Painful and wonderful, gorgeous and horrifying, truly fantastic, essential and classic, this is a book to return to again and again."
— Carol Schneck Varner, Schuler Books & Music, Okemos, MI
Description
---
UK National Book Awards 2013 "Book of the Year"
Fantasy of the very best. Wall Street Journal
A middle-aged man returns to his childhood home to attend a funeral. Although the house he lived in is long gone, he is drawn to the farm at the end of the road, where, when he was seven, he encountered a most remarkable girl, Lettie Hempstock, and her mother and grandmother. He hasn t thought of Lettie in decades, and yet as he sits by the pond (a pond that she d claimed was an ocean) behind the ramshackle old farmhouse where she once lived, the unremembered past comes flooding back. And it is a past too strange, too frightening, too dangerous to have happened to anyone, let alone a small boy.
A groundbreaking work as delicate as a butterfly's wing and as menacing as a knife in the dark, The Ocean at the End of the Lane is told with a rare understanding of all that makes us human, and shows the power of stories to reveal and shelter us from the darkness inside and out.
Gaiman s] mind is a dark fathomless ocean, and every time I sink into it, this world fades, replaced by one far more terrible and beautiful in which I will happily drown. New York Times Book Review.