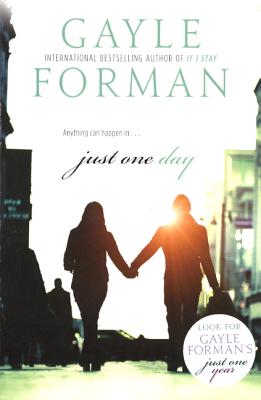 Staff Reviews
---
Just One Day is Gayle Forman's newest novel and I  loved this book.  It was such a delightful, although emotional, story.  Allyson's parents decide to give her a trip to Europe for her graduation present, which sounds incredible until you actual join the tour group.  Now uninspired by her very tight sight-seeing schedule, Allyson is looking forward to going home.  That is until she meets the Dutch Shakespearean actor Willem and impulsively decides to spend her last day in Europe with him in Paris.  Now her path has been altered and she will risk everything to find out what that one day meant for the two of them.
I loved this story.  It was such an enchanting love story that drew me in right from page one and held me to the last word.   We have all been sidetracked in life for love, and Allyson was no exception.  One of the best parts of this story is the couple's day in Paris.  Forman's descriptions of the city of love were great.  I felt like I was traveling with the happy couple and meeting all of the interesting people myself.  This book had some of the best side characters that I have encountered in awhile.  From the people in France to Allyson's friends I found them all engaging and life- like.  It was easy to get swept up in the drama when the characters are believable and able to accurately portray a wide range of emotions for the reader to go through.  We have loved all of Forman's past novels, but Just One Day is even more amazing than the others.  This is a must read for a YA reader looking for a magical love story.
— Jody
Spring '13 Kids List
---
"Filled with the ups and downs of self-discovery, Forman's new book tells the story of Allyson and her uncharacteristic decision to travel to Paris for one day with Willem, whom she met during a Shakespeare performance in England. The connection between Willem and Allyson flourishes during their trip, which makes it even more shocking when the next morning Willem has disappeared. Allyson's quick return to the United States thrusts her into a year of questioning her path and discovering her interests. The story leaves you holding your breath for the follow-up novel!"
— Kerry Barmann, Kids Ink, Indianapolis, IN
About the Author
---
Gayle Forman is an award-winning, "New York Times"--bestselling author and journalist whose articles have appeared in numerous publications, including "Seventeen," "Cosmopolitan," "The Nation," and "The New York Times Magazine." She is the author of the "New York Times "bestsellers "If I Stay "and "Where She Went," as well as "Sisters in Sanity "(HarperTeen). She lives in Brooklyn, New York with her husband and two daughters.