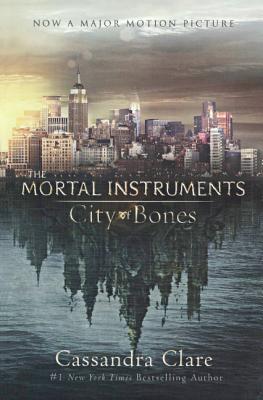 Other Books in Series
This is book number 1 in the Mortal Instruments series.
Staff Reviews
---
City of Bones by Cassandra Clare is the first book in the Mortal Instruments series. We meet Clary and Simon, who are your typical teenagers and best friends. Their entire lives have been very humdrum, perhaps even dull, until Clary spots a demon being killed by Alec, Isabelle, and Jace. Naturally, Clary is outraged at witnessing a murder, until she watches the body disappear; now things get interesting. Clary learns that her three new companions are Shadowhunters and are sworn to hunt down and kill demons. Her new friends, as well as Simon and herself, soon embark on an adventure to find Clary's mother who has been attacked and taken by a demon.
This is a fun action-packed young adult fantasy book. The characters are constantly overcoming one obstacle just to stumble onto another, making this an exciting read. The interactions between characters are entertaining, but I am hoping Clare develops them more as the series progresses. The characters were just starting to grow at the very end of the book. I also like that Clare keeps you on your toes towards the end of the book by adding a fun twist to the plot. It is sure to make the next books even better. If you are looking for a fun new series to start that has more than vampires in it, this would be a great choice.
— Jody