Spirit Animals: Special Edition: Tales of the Great Beasts (Hardcover)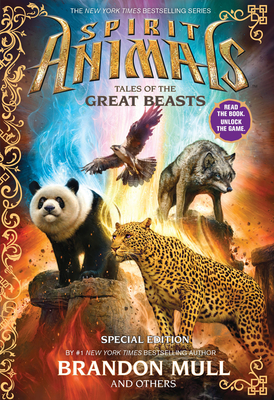 $12.99
Usually Ships in 1-5 Days
Description
---
Dive, run, and soar through this exhilarating special edition in the NEW YORK TIMES bestselling series, with a story by WILD BORN author, Brandon Mull.

Briggan the Wolf, Uraza the Leopard, Jhi the Panda, and Essix the Falcon -- the Four Fallen. Long before they were spirit animals, they roamed the wilds as Great Beasts, the most powerful beings in Erdas. When a mad king arose, the four banded together with an army of humans and animals to defeat him.

But they weren't the only Great Beasts in the war. A deadly scheme was already underway, hatched by two of their own. To save their world, the four had to give up their lives.

These are the lost stories of the most selfless acts of bravery that Erdas has ever seen, and the secret betrayal that started it all. These are TALES OF THE GREAT BEASTS.
About the Author
---
Brandon Mull is the #1 New York Times bestselling author of the Fablehaven and Beyonders series. As a kid, he had a dog, a cat, a horse, some goldfish (won at a school carnival), and briefly a tarantula (captured in his neighborhood). He now lives in Utah with his wife, four kids, and the family dog. Learn more about him at brandonmull.com.
At 22, Billy Merrell is the youngest author to date published by the PUSH Imprint of Scholastic Inc.  Merrell, who grew up in Jacksonville, Florida, began writing poetry around eighth grade.  He had a better grasp of rhyme and meter than the other students in his classes, and as a result, the teacher began giving him more challenging poetry assignments rather than less expressive work.  It wasn't until his sophomore year of high school that Merrell began to write about his own feelings, and recognized writing poetry as a liberating activity.
Merrell is a graduate of the University of Florida with a B.A. in English.  During the summer, earlier in his college career, Merrell was hired as the first PUSH Writing Intern.  During this summer internship, Merrell came to New York City and began work on his first book.  The culmination of his work with PUSH is talking in the dark, a memoir composed of poetry that documents a story of growing up, coming out and exploring love.  As a gay man himself, Merrell sought to write a book that he felt could have been of use to him as a teenage boy coming out.  It is "an affecting memoir told in verse, this work launches a promising young poet….[Merrell's] sophisticated verse and compelling story will capture attention as it stirs compassion." —School Library Journal