The Flashpoint (The 39 Clues: Unstoppable, Book 4) (Hardcover)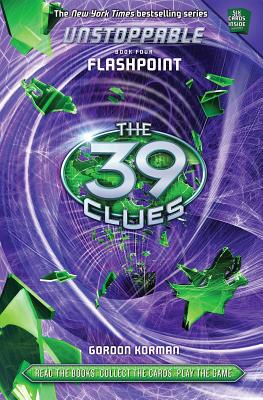 Description
---
Tick tock. Fifteen-year-old Amy Cahill has only a few days to live. There's a poison coursing through her, and her only chance is to collect ingredients for an antidote. Too bad the antidote's ingredients are scattered around the world. And too bad that survival is by far Amy's smallest problem.

The antidote she needs is also the only thing capable of stopping a deadly enemy. J. Rutherford Pierce is on the brink of becoming the most powerful man in the world, and if he does, no one will be safe. Amy and her younger brother, Dan, will do everything it takes to bring Pierce down. Even if Amy must pay the ultimate price.
About the Author
---
Gordon Korman is the #1 bestselling author of three books in The 39 Clues series as well as eight books in his Swindle series: Swindle, Zoobreak, Framed, Showoff, Hideout, Jackpot, Unleashed, and Jingle. His other books include This Can't Be Happening at Macdonald Hall! (published when he was 14); The Toilet Paper Tigers; Radio Fifth Grade; Slacker; Restart; the trilogies Island, Everest, Dive, Kidnapped, and Titanic; and the series The Hypnotists and On the Run. He lives in New York with his family and can be found on the web at gordonkorman.com.
Praise For…
---
The 39 Clues remains...
-A NEW YORK TIMES Bestselling Children's Book Series
-A USA TODAY Bestseller
-A WALL STREET JOURNAL Bestseller
-A PUBLISHERS WEEKLY Bestseller
-An INDIE BOUND Bestseller