The Dream Thieves (The Raven Cycle, Book 2) (Paperback)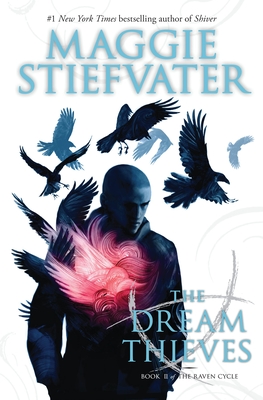 Other Books in Series
This is book number 2 in the The Raven Cycle series.
Staff Reviews
---
The Dream Thieves by Maggie Stiefvater is book two in the Raven Cycle and it was amazing!  The quest for the missing Welsh Raven king continues and much has changed now that the ley line is awake.  It has caused several unsavory characters to take notice of the small town of Henrietta and the magical power that resides there.  In fact Mr Gray, a hit man, has been sent to the town to search for a magical item that procures  things from dreams called the Greywaren.  The hit man is not the only trouble in town, Ronan begins to spin out of control with his reckless street racing as he attempts to understand his family's legacy.  It seems Gansey's group is slowly unraveling.
The first book was great, but this one was fabulous.  Ronan's past and supernatural talent were so much fun to read about.  Without giving too much away, I love the dark creatures that he creates and the inner strength he eventually finds in himself.  And I still love Blue and Gansey.  Blue may doubt her place, but we all know she is going to grow into something amazing as the series continues.  You can feel the hidden potential behind her reserved nature.  Gansey is always charming and he cares so much for his friends.  I think he is going to find away to keep everyone together and find his king, but sadly I have to wait for the next book to find out.  Aside from the characters, my second favorite part about this series is all of the ravens.  There are pet ravens, raven mascots, raven kings, the list goes on and on and makes any raven enthusiast smile.  This is such a unique supernatural story and is easily one of my top reads during 2013.
— Jody
Description
---
If you could steal things from dreams, what would you take?
Ronan Lynch has secrets. Some he keeps from others. Some he keeps from himself.

One secret: Ronan can bring things out of his dreams.

And sometimes he's not the only one who wants those things.

Ronan is one of the raven boys - a group of friends, practically brothers, searching for a dead king named Glendower, who they think is hidden somewhere in the hills by their elite private school, Aglionby Academy. The path to Glendower has long lived as an undercurrent beneath town. But now, like Ronan's secrets, it is beginning to rise to the surface - changing everything in its wake.

Of THE RAVEN BOYS, ENTERTAINMENT WEEKLY wrote, "Maggie Stiefvater's can't-put-it-down paranormal adventure will leave you clamoring for book two." Now the second book is here, with the same wild imagination, dark romance, and heart-stopping twists that only Maggie Stiefvater can conjure.
About the Author
---
Maggie Stiefvater is the #1 New York Times bestselling author of the novels Shiver, Linger, Forever, and Sinner. Her novel The Scorpio Races was named a Michael L. Printz Honor Book by the American Library Association. The first book in The Raven Cycle, The Raven Boys, was a Publishers Weekly Best Book of the Year and the second book, The Dream Thieves, was an ALA Best Book for Young Adults. The third book, Blue Lily, Lily Blue, received five starred reviews. The final book, The Raven King, received four. Her latest book is All the Crooked Saints. She is also an artist and musician. She lives in Virginia with her husband and their two children. You can visit her online at maggiestiefvater.com.
Praise For…
---
Praise for THE DREAM THIEVES:

* "Richly written and filled with figurative language...this story of secrets and dreams, of brothers and of all-too-real magic is an absolute marvel of imagination and an irresistible invitation to wonder." --BOOKLIST, starred review

* "Mind-blowingly spectacular... Stiefvater's careful exploration of class and wealth and their limitations and opportunities astounds with its sensitivity and sophistication. The pace is electric, the prose marvelously sure-footed and strong, but it's the complicated characters...that meld magic and reality into an engrossing, believable whole." -- KIRKUS REVIEWS, starred review

* "A paranormal thriller...this installment [is] more tense and foreboding than its predecessor-and every bit as gripping." -- PUBLISHERS WEEKLY, starred review

* "A complex web of magical intrigue and heartstopping action." -- THE BULLETIN, starred review

* "Readers who want a moody chill and appreciate an atmospheric turn of phrase will want to spread more time in Henrietta." -- SCHOOL LIBRARY JOURNAL, starred review

Praise for THE RAVEN BOYS:
"Stiefvater is a master storyteller." -- USA TODAY
"A dizzying paranormal romance tinged with murder and Welsh mythology." -- LOS ANGELES TIMES
* "Simultaneously complex and simple, compulsively readable, marvelously wrought." -- KIRKUS REVIEWS, starred review
* "A tour de force . . . such a memorable read." -- PUBLISHERS WEEKLY, starred review

* "One unexpected and wonderful surprise after another . . . a marvel of imagination." -- BOOKLIST, starred review

"The Raven Boys is an incredibly rich and unique tale, a supernatural thriller of a different flavor. . . . Fans have been salivating for Stiefvater's next release and THE RAVEN BOYS delivers." -- SCHOOL LIBRARY JOURNAL, starred review

"Equal parts thriller and mystery, with a measured dash of romance sprinkled on top . . .
Maggie has woven such a unique, intriguing narrative that I struggled for comparisons." -- MTV.com

A PUBLISHERS WEEKLY Best Book of the Year

THE BULLETIN OF THE CENTER FOR CHILDREN'S BOOKS 2012 Blue Ribbons list