The Raven Boys (The Raven Cycle, Book 1) (Paperback)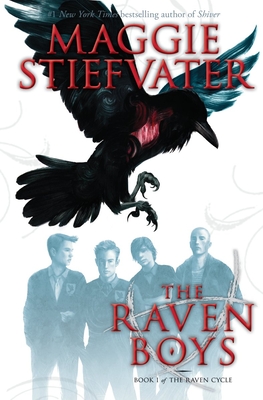 Other Books in Series
This is book number 1 in the The Raven Cycle series.
Staff Reviews
---
Maggie Stiefvater's newest novel Raven Boys is the start of a new series featuring a psychic's daughter Blue and a handful of the Aglionby private boarding school  students, commonly known as Raven boys.  Blue herself has no psychic abilities  even though everyone else in her life does.  She has been told that she has the rare gift of supercharging a psychic's sight, but truthfully finds this to be a dull talent.  Her whole life she has grown up trying to stay away from the Raven boys.  They are nothing but spoiled brats temporarily residing in her small town.  Well, that's one reason.  The other reason is that for years her mom and her mom's friends have told her that her first true love will die if she kisses him.  That kind of makes it even more important that she stays away from them, which is fine until she meets Gansey and his posse.   Now she finds herself drawn into his quest to discover a long lost king with all the challenges and heartache that comes along with it.
This was a great book!  I especially loved all of the repeated raven references.  You really can't get away from that bird, whether it be the boys' school, their pet, or the missing Welsh king himself, the raven is everywhere.  I thought Stiefvater took a unique approach to her book by giving none of the main characters any magical powers – or at least none that we know.  Instead the focus is looking for a ley line, which holds all of the magical powers.  It was fun and easy to relate to the teens searching for magic instead of learning to use magic.  The characters are charming, developed, and sure to keep getting better as the series progresses.   And how can you not love a book that uses the phrase, "top shelf" in non-joking fashion from a teen character – what a fantastic use of language.  If you are looking for a paranormal book that isn't the typical vampire or angel theme, then pick-up Maggie Stiefvater'sRaven Boys.  You are sure to like it and want more.
— Jody
Fall '12 Kids List
---
"Blue has grown up in a house full of women psychics who have foretold certain death for her first love. She unwillingly becomes friends with a gaggle of boys, the Raven Boys, from the very expensive private school in town. They're on the search for a mythical king who is said to grant a wish to whoever finds him. Will Blue's ability to intensify the magic around them help on their quest or put them in danger? The Raven Boys will pull you into their thrilling journey."
— Hannah Johnson-Breimeier, Next Chapter Bookshop, Mequon, WI
Description
---
Every year, Blue Sargent stands next to her clairvoyant mother as the soon-to-be dead walk past. Blue never sees them--until this year, when a boy emerges from the dark and speaks to her.

His name is Gansey, a rich student at Aglionby, the local private school. Blue has a policy of staying away from Aglionby boys. Known as Raven Boys, they can only mean trouble.

But Blue is drawn to Gansey, in a way she can't entirely explain. He is on a quest that has encompassed three other Raven Boys: Adam, the scholarship student who resents the privilege around him; Ronan, the fierce soul whose emotions range from anger to despair; and Noah, the taciturn watcher who notices many things but says very little.

For as long as she can remember, Blue has been warned that she will cause her true love to die. She doesn't believe in true love, and never thought this would be a problem. But as her life becomes caught up in the strange and sinister world of the Raven Boys, she's not so sure anymore.
About the Author
---
Maggie Stiefvater is the #1 New York Times bestselling author of the novels Shiver, Linger, Forever, and Sinner. Her novel The Scorpio Races was named a Michael L. Printz Honor Book by the American Library Association. The first book in The Raven Cycle, The Raven Boys, was a Publishers Weekly Best Book of the Year and the second book, The Dream Thieves, was an ALA Best Book for Young Adults. The third book, Blue Lily, Lily Blue, received five starred reviews. The final book, The Raven King, received four. Her latest book is All the Crooked Saints. She is also an artist and musician. She lives in Virginia with her husband and their two children. You can visit her online at maggiestiefvater.com.
Praise For…
---
é "Stiefvater's novel, inspired by Manx, Irish, and Scottish legends of beautiful but deadly fairy horses that emerge from the sea each autumn, begins rivetingly and gets better and better . . . all the way, in fact, to best."
–Horn Book Review, Starred Review

é "Masterful...like nothing else out there now."
–Kirkus Reviews, Starred Review

é "A study of courage and loyalty tested…utterly compelling."
–Publishers Weekly, Starred Review

é "A book with cross-appeal to lovers of fantasy, horse stories, romance, and action-adventure, this seems to have a shot at being a YA blockbuster."
–Booklist, Starred Review

é "Up–On the sea-battered and wind-swept isle of Thisby, fall brings the famed and feared capaill uisce, or water horses, and with them, death . . . The author takes great liberties with the Celtic myth, but the result is marvelous."
–School Library Journal, Starred Review

"Stiefvater not only steps out of the young adult fantasy box with "The Scorpio Races" but crushes it with pounding hooves…. If "The Scorpio Races" sounds like nothing you've ever read, that's because it is."
–The New York Times Book Review

"Tactile world-building, an island full of compelling characters, and the budding romance between Sean and Puck all make for an unforgettable book that's quite unlike anything else out there."
–NPR Books

"With this beautifully executed drama, Stiefvater has established herself as one of the finest YA novelists writing today."
–Entertainment Weekly

"Tense, atmospheric, and utterly original."
–People Magazine