Spin the Dawn (The Blood of Stars #1) (Hardcover)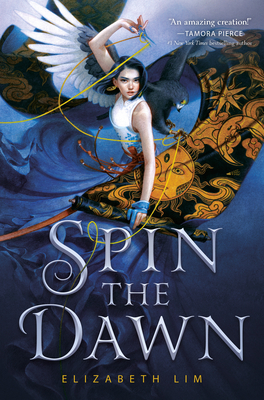 $18.99
Usually Ships in 1-5 Days
Other Books in Series
This is book number 1 in the The Blood of Stars series.
Staff Reviews
---
What did I love about this book? Well, everything. I loved the characters. Maia is the youngest child in her family and a brilliant tailor. She is determined and loyal, and I love her. Maia's strength was one of my favorite parts of the book. She is "the strong one," but that strength isn't individualistic. She's the strong one who holds her family together. This type of strength felt nuanced and refreshing compared to other YA books I've read. I loved her growth over the course of the book and how she became more self-assured. Book two is going to be a ride, and I can't wait to see how her character develops in it.
Edan, oh my boy, Edan. He's wonderful. He is sarcastic and witty, very much the loveable rogue that commonly appears in YA novels, and then as the novel progresses, we see different sides to him. Like Maia, he grows over the course of the book, and I can't wait to see where he goes in UNRAVEL THE DUSK. Individually, they are intelligent and loyal, and together they are communicative and selfless. Their relationship was one I could root for, and their banter made me laugh. The respect and pride they have for each other really stood out to me, and for that I liked them together and how well they communicated. It was refreshing to not have to deal with a miscommunication trope between the romantic leads. I thought they were stronger together which is how you want a reader to feel about a ship.
            So much happens in this book. SPIN THE DAWN is billed as Project Runway and Mulan, and it is very much that, but that description only tells you about the first third of the book. The rest of the story is quest that is just as interesting and entertaining to read as the sewing competition. The pacing felt right as well. For not even being 400 pages, I was astounded by just how much happened in terms of plot and character. I never felt like Maia's and Edan's character development was sacrificed for a plot event. They felt balanced, and by the end, I'd felt like I'd gone on a journey with them.
            I was absolutely thrilled to be reading a YA fantasy novel so embedded in Chinese culture. Whenever Chinese food is mentioned in fantasy novels as the norm, I love it. I love seeing the foods I grew up reading in fantasy novels. I love seeing the characters with names like mine and appearances like mine. I love seeing a girl with hair like mine on the cover of the book, and I want other people to read it and love it as much as I do. This is easily one of my favorite books of the year, and I cannot wait to read the UNRAVEL THE DUSK next summer!
— Jen
Description
---
"Looking for your next big YA fantasy series? We've got our eye on this stylist blockbuster." --Entertainment Weekly

Project Runway meets Mulan in this sweeping fantasy about a young girl who poses as a boy to compete for the role of imperial tailor and embarks on an impossible journey to sew three magic dresses, from the sun, the moon, and the stars.

Maia Tamarin dreams of becoming the greatest tailor in the land, but as a girl, the best she can hope for is to marry well. When a royal messenger summons her ailing father, once a tailor of renown, to court, Maia poses as a boy and takes his place. She knows her life is forfeit if her secret is discovered, but she'll take that risk to achieve her dream and save her family from ruin. There's just one catch: Maia is one of twelve tailors vying for the job.
     Backstabbing and lies run rampant as the tailors compete in challenges to prove their artistry and skill. Maia's task is further complicated when she draws the attention of the court magician, Edan, whose piercing eyes seem to see straight through her disguise.
     And nothing could have prepared her for the final challenge: to sew three magic gowns for the emperor's reluctant bride-to-be, from the laughter of the sun, the tears of the moon, and the blood of stars. With this impossible task before her, she embarks on a journey to the far reaches of the kingdom, seeking the sun, the moon, and the stars, and finding more than she ever could have imagined.
     Steeped in Chinese culture, sizzling with forbidden romance, and shimmering with magic, this young adult fantasy is pitch-perfect for fans of Sarah J. Maas or Renée Ahdieh.

"Spin the Dawn is proof that casting a wider net not only gives us a fresh story that feels unlike everything else on the shelves beside it but also allows for richer and more nuanced storytelling." —NPR

"All the cutthroat competition of a runway fashion reality show and the thrilling exploits of an epic quest… a stunning tapestry of adventure." —The Washington Post

"What an amazing creation! Every time I thought I knew where it was going, I was wrong. This is a white-knuckle read." --Tamora Pierce, #1 New York Times Bestselling author of Tempests and Slaughter
About the Author
---
ELIZABETH LIM grew up in the San Francisco Bay Area, where she was raised on a hearty diet of fairy tales, myths, and songs. Before becoming an author, Elizabeth was a professional film and video game composer, and she still tends to come up with her best book ideas when writing near a piano. An alumna of Harvard College and the Juilliard School, she now lives in New York City with her husband and her daughter.

Spin the Dawn is her first original novel, and its companion in the Blood of Stars series, Unravel the Dusk, will be published in summer 2020. For more information, visit her online (elizabethlim.com) or follow her on Twitter (@LizLim) or Instagram (@elimpix).
Praise For…
---
"Maia's perspective as a working tailor makes her world vibrant and full of sensory details that are sure to delight even the most jaded of fantasy readers." —NPR

"Part Project Runway set during the Silk Road era, part epic adventure. . . . This will have broad appeal." —Kirkus Reviews

"Beautifully written with a can't-wait-for-the-sequel ending, this breathtaking and fast-paced Silk-road inspired fantasy from the author of Mulan-retelling Reflection (2018) is sure to enchant readers beginning to end." —Booklist

"An addictive magical adventure." —SLJ

"Spin the Dawn is pure magic. Romance, artistry, and deep enchantment." --Gregory Maguire, bestselling author of Wicked

"A thrilling tale as rich as velvet and as exquisite as fine embroidery." —Heidi Heilig, author of The Girl from Everywhere