One Plus One: A Novel (Hardcover)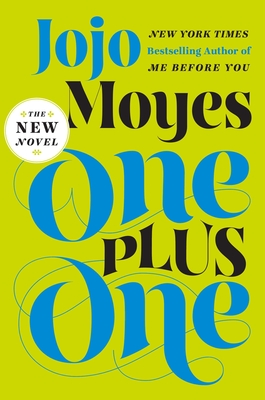 $27.95
Usually Ships in 1-5 Days
Staff Reviews
---
Jojo Moyes creates wonderful novels that are eloquently written and filled with amazing characters.  Her latest novel is One Plus One and it is filled with funny mishaps and witty conversations.   This is the tale about a mom who is trying to keep her family happy and safe, which has become a daunting task since her husband left them.  To make things even more complicated, Jess is trying to find a way to stop her son from getting bullied as well as frantically trying to come up with money to send her genius daughter to an elite private academy.  The only way she is going to get enough money for the school is if she can get her daughter to a math competition in Scotland.  The trip doesn't go as planned, in fact it goes worse than planned.  Jess finds herself unable to get to Scotland until she runs into Ed, who has problems of his own.  Now the dysfunctional family is whisked off in Ed's car in hopes of turning their lives around.
This is a great contemporary British novel that is rich in atmosphere and character charm.  It was fun getting lost in the chaos of the family and  I instantly fell in love with all of the characters.  The dynamic between Jess and Ed is really entertaining.  They are both strong individuals who are fighting their own personal demons and are reluctant to let another person in for fear of being hurt, creating the perfect recipe for banter and drama.  Overall what I enjoyed the most was the warm feeling you get when you read the novel.  Even with all the mishaps you can feel the  love and the joy of being a member of this non-traditional family.
— Jody
July 2014 Indie Next List
---
"Jess is a single mom working two jobs to support her kids -- Nicky, her goth-like teenage stepson, and Tanzie, her math whiz daughter - who are both struggling to find their way in the world. Ed is a tech millionaire facing charges of insider trading, whose vacation home Jess happens to clean. A once-in-a-lifetime opportunity for Tanzie throws this unlikely group together, sending them on a hellish, hilarious road trip littered with mishaps, misunderstandings, and moments of clarity. The bestselling author of Me Before You offers another unforgettable tale reminding readers that families and love stories both come in all shapes and sizes."
— Anderson McKean, Page & Palette, Fairhope, AL
Description
---
One single mom. One chaotic family. One quirky stranger. One irresistible love story from the #1 New York Times bestselling author of Me Before You, After You and Still Me.
 
American audiences have fallen in love with Jojo Moyes. Ever since she debuted Stateside she has captivated readers and reviewers alike, and hit the New York Times bestseller list with the word-of-mouth sensation Me Before You. Now, with One Plus One, she's written another contemporary opposites-attract love story.
 
Suppose your life sucks. A lot. Your husband has done a vanishing act, your teenage stepson is being bullied, and your math whiz daughter has a once-in-a-lifetime opportunity that you can't afford to pay for. That's Jess's life in a nutshell—until an unexpected knight in shining armor offers to rescue them. Only Jess's knight turns out to be Geeky Ed, the obnoxious tech millionaire whose vacation home she happens to clean. But Ed has big problems of his own, and driving the dysfunctional family to the Math Olympiad feels like his first unselfish act in ages . . . maybe ever.
 
One Plus One is Jojo Moyes at her astounding best. You'll laugh, you'll weep, and when you flip the last page, you'll want to start all over again.
About the Author
---
Jojo Moyes is the #1 New York Times bestselling author of Still Me, After You, Me Before You, One Plus One, The Girl You Left Behind, The Last Letter from Your Lover, Silver Bay, and The Ship of Brides. She lives with her husband and three children in Essex, England.
Praise For…
---
Praise for THE GIRL YOU LEFT BEHIND:

"Vibrant and gripping."
—People (***)

"Jojo Moyes expertly weaves a bittersweet tale in this irresistible novel, taking careful interest in the dark corners that exist within great love stories, and the trickiness of simple happy endings. A-"
—Entertainment Weekly

"Moyes writes delicious plots, with characters so clearly imagined they leap off the pages in high-definition prose."
—USA Today (3 1/2 stars)

"Jojo Moyes builds on her strengths in this moving and accomplished new novel. As she did in the best-selling Me Before You, she asks readers to think in fresh ways about a morally complex issue. . . . The Girl You Left Behind is strong, provocative, satisfying fiction.
—The Washington Post

"'In this moving paean to daring, determination and perspicacity, Moyes keeps the reader guessing down to the last hankie."
—Los Angeles Times

"Good storytelling."
—New York Daily News

"In her latest heart tugger, Jojo Moyes deftly weaves the story of newlyweds in WWI France with that of a young widow in today's London."
—Parade

"Lovely and wry, Moyes's newest is captivating and bittersweet."
—Publishers Weekly (starred review)

"Moyes (Me Before You) has created a riveting depiction of a wartime occupation that has mostly faded from memory. Liv and Sophie are so real in their faults, passion, and bravery that the reader is swept along right to the end. This one is hard to put down!"
—Library Journal (starred review)

"Moyes (Me Before You, 2012) writes with such clarity that one can almost see the eponymous 100-year-old painting at the center of her wonderful new novel. . . .  an uncommonly good love story."
—Booklist