A Beginner's Guide to Paradise: 9 Steps to Giving Up Everything (Hardcover)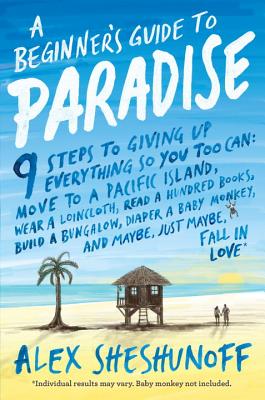 Email or call for price
Special Order - Subject to Availability
Description
---
So You Too Can:
 
- Move to a South Pacific Island
- Wear a Loincloth
- Read a Hundred Books
- Diaper a Baby Monkey
- Build a Bungalow
 
And Maybe, Just Maybe, Fall in Love! *
 
* Individual results may vary.

The true story of how a quarter-life crisis led to adventure, freedom, and love on a tiny island in the Pacific.

From the author of a lot of emails and several Facebook posts comes A Beginner's Guide to Paradise, a laugh-out-loud, true story that will answer your most pressing escape-from-it-all questions, including:

1. How much, per pound, should you expect to pay a priest to fly you to the outer islands of Yap?
2. Classic slumber party stumper: If you could have just one movie on a remote Pacific island, what would it definitely not be?
3. How do you blend fruity drinks without a blender?
4. Is a free, one-hour class from Home Depot on "Flowerbox Construction" sufficient training to build a house?
 
From Robinson Crusoe to Survivor, Gilligan's Island to The Beach, people have fantasized about living on a remote tropical island. But when facing a quarter-life crisis, plucky desk slave Alex Sheshunoff actually did it.

While out in Paradise, he learned a lot. About how to make big choices and big changes. About the less-than-idyllic parts of paradise. About tying a loincloth without exposing the tender bits. Now, Alex shares his incredible story and pretty-hard-won wisdom in a book that will surprise you, make you laugh, take you to such unforgettable islands as Yap and Pig, and perhaps inspire your own move to an island with only two letters in its name.

Answers: 1) $1.14 2) Gas Attack Training Made Simple 3) Crimp a fork in half and insert middle into power drill 4) No.
About the Author
---
Burnt out and facing a quarter-life crisis, Alex Sheshunoff quit his Internet job in New York City and bought a one-way ticket to Yap, bringing with him a few t-shirts and the hundred books he was most embarrassed not to have read. While out there, he'd read those books, meet a woman, build a bungalow, adopt a baby monkey, and write his own book- a hopefully-humorous memoir called A Beginner's Guide to Paradise. 
 
Because of his unique last name, Alex is often asked if he's somehow related to Ian Shenanigan Sheshunoff, the first-place winner of the Diaper Derby Crawling Contest at the 2008 Alaska State Fair.  They are indeed related. Ian is his son.  Today, Alex and his wife, Sarah, live in Ojai, California with Ian and his equally talented younger brother, Andrew Commissioner Sheshunoff.
Praise For…
---
"Hilarious and brilliantly written."—AJ Jacobs, editor-at-large, Esquire
 
"A must read!"—New York Post
 
"The male answer to Eat, Pray, Love!"—BookPage
 
"Charming and ferociously entertaining."—Peter Mountford, author of A Young Man's Guide to Late Capitalism
 
"Witty and immensely entertaining!"—Passport Magazine
 
"Sincerely funny."—Kirkus Reviews
 
"Nonfiction Winner"—Faulkner Society's Words & Wisdom Award
 
"1st Place New Nonfiction"—Los Angeles Book Festival