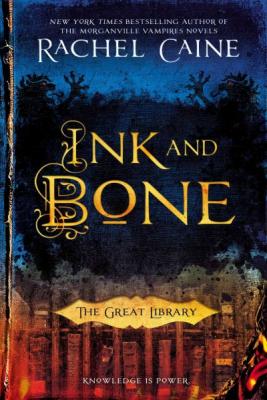 Other Books in Series
This is book number 1 in the Great Library series.
Staff Reviews
---
Rachel Caine's new series The Great Library is off to a promising start.  Book one Ink and  Bone introduces us to a futuristic world with steampunk elements.  Jess has never known a time when the Great Library doesn't rule over everyone.  It dictates what people can read and only allows books to be read via tablet: real physical books are forbidden.  His family specializes in black market books so when the opportunity arises for a job within the library his father doesn't hesitate to pay for him to get an audition.  It would be perfect having a family member inside the library working as a spy.  But once Jess starts his journey he finds that things are not that simple and in fact they are quite deadly.
What an outstanding beginning.  The atmosphere was engrossing and detailed.  I could feel myself in the gritty side streets of London as well as the sweltering desert of Egypt.  I also liked that in many ways this futuristic world felt old and reminiscent of the Industrial age.  This book was complex with layers of intrigue and I enjoyed learning key tidbits (both past and present) through letters between the heads of the library.  I should also mention, that this book is packed with action.  Whether it be with the tests that the candidates have to complete or braving a war zone, I often found myself quickly turning the page to see if everyone was okay.  That being said, Caine never  sacrifices her character development.  Jess went from being a bullied son to finding his courage, using his intelligence, and creating lifelong friendships.  This is a great read for fans of the Divergent series, Infernal Devices or all book lovers.
— Jody
Description
---
In an exhilarating new series, New York Times bestselling author Rachel Caine rewrites history, creating a dangerous world where the Great Library of Alexandria has survived the test of time....
Ruthless and supremely powerful, the Great Library is now a presence in every major city, governing the flow of knowledge to the masses. Alchemy allows the Library to deliver the content of the greatest works of history instantly--but the personal ownership of books is expressly forbidden.
Jess Brightwell believes in the value of the Library, but the majority of his knowledge comes from illegal books obtained by his family, who are involved in the thriving black market. Jess has been sent to be his family's spy, but his loyalties are tested in the final months of his training to enter the Library's service.
When he inadvertently commits heresy by creating a device that could change the world, Jess discovers that those who control the Great Library believe that knowledge is more valuable than any human life--and soon both heretics and books will burn....
About the Author
---
Rachel Caine is the New York Times, USA Today, and international bestselling author of more than forty novels, including Prince of Shadows, the Morganville Vampires series, the Weather Warden series, the Outcast Season series, and the Revivalist series.