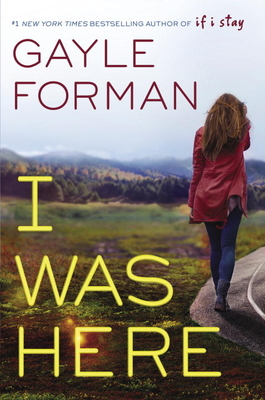 $18.99
Usually Ships in 1-5 Days
Staff Reviews
---
I love Gayle Forman's books.  She always creates engaging characters that you want to read about.  Her latest book I Was Here is no exception, it was wonderful.  The book is about a girl, Cody, whose best friend, Meg, commits suicide leaving everyone stunned, hurt, and confused.  Cody feels incredibly guilty that she was unable to help her best friend,  or even notice that she was so depressed.  Thus begins her investigation into why her best friend committed suicide which leads to past boyfriends, college friends, and an encrypted laptop.
Forman did such an amazing job with her character development. Cody begins her quest in the thick of her grief and as she continues to try to understand why Meg died she finds that she can finally move forward with her life.  Forman's books are so true to life and genuine. Her captivating stories pull you forward until suddenly you have reached the end of the book.  If you are looking for a new contemporary young adult fiction author to read her books would be a perfect choice.
— Jody
Description
---
From the #1 New York Times bestselling author of If I Stay comes "a heartbreaking novel about coping with loss" (People).
 
When her best friend, Meg, commits suicide by drinking a bottle of industrial-strength cleaner alone in a motel room, Cody is understandably shocked and devastated. She and Meg shared everything—so how did she miss the signs of Meg's depression? But when Cody travels to Meg's college town to pack up the belongings left behind, she discovers that there's a lot that Meg never told her. About her old roommates, the sort of people Cody never would have met in her dead-end small town in Washington. About Ben McAllister, the boy with a guitar and a sneer, and some secrets of his own. And about an encrypted computer file that Cody can't open—until she does, and suddenly everything Cody thought she knew about her best friend's death gets thrown into question.
 
"I Was Here is a pitch-perfect blend of mystery, tragedy, and romance. Gayle Forman has given us an unflinchingly honest portrait of the bravery that it takes to live after devastating loss."
—Stephen Chbosky, author of the #1 New York Times bestselling The Perks of Being a Wallflower
About the Author
---
Gayle Forman is an award-winning, internationally bestselling author and journalist. She is the author of Just One Day and Just One Year, and the companion e-novella Just One Night, as well as the New York Times bestsellers If I Stay and Where She Went. She lives in Brooklyn, New York, with her husband and daughters.
Praise For…
---
Praise for I Was Here:

"I Was Here is a pitch-perfect blend of mystery, tragedy, and romance. Gayle Forman has given us an unflinchingly honest portrait of the bravery it takes to live after devastating loss." —Stephen Chbosky, author of the #1 New York Times bestselling The Perks of Being a Wallflower

"Irresistible tear-jerker" —New York Times

"A heartbreaking novel about coping with loss from the bestselling author of If I Stay" —People

"As she did in If I Stay, Forman offers an introspective examination of the line between life and death, and the courage it takes to persist."—Publishers Weekly, starred review

"Forman sifts through Cody's shifting psychological landscape with a sure and delicate hand, developing a character that readers will recognize themselves in. . . a relevant book as well as an absorbing one." —BCCB, starred review

"Part tautly paced mystery, part psychological study of suicide and its aftereffects. . . An engrossing and provocative look at the devastating finality of suicide, survivor's guilt, the complicated nature of responsibility and even the role of the Internet in life-and-death decisions." —Kirkus Reviews

"Suicide has always been a subject in YA literature, and to her credit, Forman handles it sensitively and gracefully, raising important issues of the ethics and morality of the subject. The combination mystery and love story is sure to reach a wide readership and excite essential discussion. . . This latest offering should generate massive teen interest." —Booklist

"Cody's struggle with grief and complicity is intense and affecting up until an emotional gut-punch of a conclusion. Once this compelling case is closed, what remains is a haunting, elegiac tale about enduring and understanding loss. " —The Horn Book

"Teens will clamor for this latest offering from the author of If I Stay." —School Library Journal

"Hugely popular Forman, author of the acclaimed If I Stay among others, has another best seller here. This novel's strength lies in its depiction of main character Cody, a young woman torn by conflicts but sustained by her own sense of purpose." —VOYA

"Takes tragedy, guilt, friendship, inspiration, heartache, and bravery and mixes them all up in a blender of feelings" —Bustle

Praise for If I Stay and Where She Went:

"Beautifully written." —Entertainment Weekly

"An achingly gorgeous portrayal of rejection and rekindled love." —USA Today

"A page-turner, tearjerker and romance all in one." —BookPage
 
"Pitch-perfect...a moving, skillfully crafted novel." —VOYA, starred review
 
Praise for Just One Day and Just One Year:

"Offering mystery, drama, and an evocative portrait of unrequited love, this open-ended novel will leave fans eagerly anticipating the companion story." —Publishers Weekly, starred review

"Readers were enthralled with Forman's If I Stay books, and now she's captivated them again as they fall in love with her characters in Just One Day." —NPR's The Roundtable

"As satisfying as both of these books are, readers are going to wish for a third." —Booklist