The Heroes of Olympus, Book Three: The Mark of Athena (CD-Audio)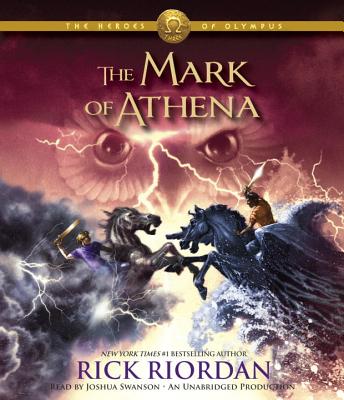 $55.00
Email or call for price.
Other Books in Series
This is book number 3 in the The Heroes of Olympus series.
Staff Reviews
---
Mark of Athena by Rick Riordan is fantastic.  He just keeps getting better with every book, of course this means that we read it nonstop and then are anxiously waiting for the next book.  The story picks up right where The Son of Neptune ended.  Annabeth, Jason, Piper, and Leo are all flying along in the Argo II hoping that Camp Jupiter doesn't think they are trying to start a war.  This paired with the weight of having the coin that Athena, her mother, gave her with the words "avenge me"  attached  as made life a little stressful for Annabeth.  However, this is not discouraging her from tracking down Athena's statue and making things right.
Riordan writes such beautiful descriptions; I was in awe when he the described the statue of Athena.    He  also has such a gift for keeping his readers glued to his every word.  The tale never becomes repetitive or mundane.  In fact, they become more suspenseful and every bit of the story is packed with adventure.  This has been such a great spin off series from the Percy Jackson and the Olympians and is wonderful for all ages.
— Sherry
Description
---
Annabeth is terrified. Just when she's about to be reunited with Percy—after six months of being apart, thanks to Hera—it looks like Camp Jupiter is preparing for war. As Annabeth and her friends Jason, Piper, and Leo fly in on the Argo II, she can't blame the Roman demigods for thinking the ship is a Greek weapon. With its steaming bronze dragon figurehead, Leo's fantastical creation doesn't appear friendly. Annabeth hopes that the sight of their praetor Jason on deck will reassure the Romans that the visitors from Camp Half-Blood are coming in peace.

And that's only one of her worries. In her pocket, Annabeth carries a gift from her mother that came with an unnerving command: Follow the Mark of Athena. Avenge me. Annabeth already feels weighed down by the prophecy that will send seven demigods on a quest to find—and close—the Doors of Death. What more does Athena want from her?

Annabeth's biggest fear, though, is that Percy might have changed. What if he's now attached to Roman ways? Does he still need his old friends? As the daughter of the goddess of war and wisdom, Annabeth knows she was born to be a leader—but never again does she want to be without Seaweed Brain by her side.
About the Author
---
Rick Riordan is the author of the New York Times #1 bestselling The Lost Hero and The Son of Neptune, the first two books in his Heroes of Olympus series. He also penned the New York Times #1 bestselling Percy Jackson and the Olympians. Look for books from both of these series on audio from Listening Library.