The Smoke Thieves (Hardcover)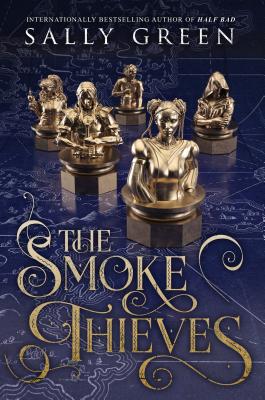 $18.99
Usually Ships in 1-5 Days
Description
---
Unforgiveable betrayals, devious motives, and forbidden love collide in the first installment of internationally bestselling author Sally Green's epic new fantasy series, perfect for Game of Thrones fans. 


     In a land tinged with magic and a bustling trade in an illicit supernatural substance, destiny will intertwine the fates of five players: 

A visionary princess determined to forge her own path. 

An idealistic solider whose heart is at odds with his duty. 

A streetwise hunter tracking the most dangerous prey. 

A charming thief with a powerful hidden identity. 

A loyal servant on a quest to avenge his kingdom.

     Their lives intersect with a stolen bottle of demon smoke. As war approaches, they must navigate a tangled web of political intrigue, shifting alliances, and forbidden love in order to uncover the dangerous truth about the strangely powerful smoke that interwines their fates.
About the Author
---
Sally Green lives in Cheshire, England. She has had various jobs, but in 2010 she started writing a novel and that turned into a new career. She is the author of the Half Bad trilogy. She likes to run and most of her books feature a character who runs. Follow her on Twitter @Sa11eGreen.
Praise For…
---
"Sally Green's The Smoke Thieves is full to overflowing with dark magic, marvelous mayhem, heart-stopping action, and delicious forbidden romance. I want more!"—Morgan Rhodes, New York Times bestselling author of Falling Kingdoms

"Hugely ambitious…. A rewarding read." —The Times

"A YA Game of Thrones that pits power against love, conviction against convention."—Booklist

"A must-purchase."—School Library Journal

"The pieces that come together at the end are clearly only a part of a massive puzzle, teasing readers and ensuring a sequel." —BCCB Reviews

"Will hold readers rapt until the harrowing conclusion." —Publishers Weekly

"Love, humor, politics, machinations, loyalty, violence, and magic swirl and shine in this fast-paced book that lovers of this genre will fall into and not want to climb out of." —School Library Connection

A Kids' Indie Next Selection