The Gates of Evangeline (Paperback)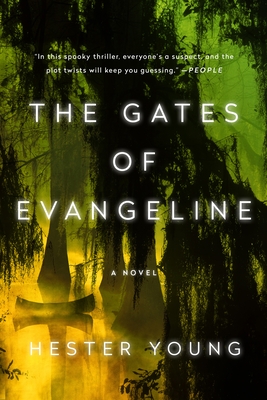 $17.60
Usually Ships in 1-5 Days
Staff Reviews
---
Hester Young's debut novel Gates of Evangeline is a gripping tale of missing children and family secrets.  After suffering the terrible loss of her son, Charlie is having a hard time readjusting to life.  To complicate matters, she has started having visions of children in trouble and is realizing her visions come true.   When her old boss contacts her out of the blue for a job opportunity she decides a change is just what she needs (not to mention the little boy in her vision is asking her to come and help him).  Leaving New York City behind, Charlie temporarily moves to Louisiana to research and write a book on the thirty year old cold case of the disappearance of a little boy.  However, he wasn't from your typical  family but in fact an old southern genteel family with plenty of secrets.
Young's writing is great.  The book is filled with twists and turns and just a hint of the paranormal which make you keep coming back.  I am a sucker for southern books these days and Young does a great job of capturing the atmosphere and southern drawl.  The characters are interesting and developed and you want to know what everyone is hiding.  This is a great book for mystery enthusiasts as well as contemporary fiction readers.  There is a mystery that carries the novel, but you become involved with all of the characters and their story as well.
— Jody
September 2015 Indie Next List
---
"Charlie Cates recently lost her young son and the job that she worked so hard for is probably going to be eliminated. When Charlie is offered a chance to write about the Deveau family and their child who went missing over 30 years ago, she jumps at the chance. What she hasn't told anybody is that she has been seeing visions of children in trouble and is currently experiencing one of a young boy in a rowboat in a Louisiana swamp who she suspects is the missing Deveau child. But what if she has it all wrong? In this excellent thriller, things are really not what they seem to be. A wonderful puzzle with a Southern Gothic feel, this is a definite must-read!"
— Janice Hunsche (E), Kaleidosaurus Books, Fishers, IN
Description
---
A Publishers Weekly Best Book of 2015
A Suspense Magazine Best Book of 2015
 
From a unique new talent comes a fast-paced debut, introducing a heroine whose dark visions bring to light secrets that will heal or destroy those around her . . .

When New York journalist and recently bereaved mother Charlotte "Charlie" Cates begins to experience vivid dreams about children in danger, she's sure that she's lost her mind. Yet these are not the nightmares of a grieving parent. They are warnings that will help Charlie and the children she sees, if only she can make sense of them.

After a little boy in a boat appears in Charlie's dreams, asking for her help, she finds herself entangled in a world-famous thirty-year-old missing-child case that has never ceased to haunt Louisiana's prestigious Deveau family. Armed with an invitation to Evangeline, the family's sprawling estate, Charlie heads south, where new friendships and an unlikely romance with the estate's landscape architect—the warm and handsome Noah Palmer—bring much-needed healing. But as she uncovers long-buried secrets of love, money, betrayal, and murder, the facts begin to implicate those she most wants to trust—and her visions reveal an evil closer than she could have imagined.

A Southern Gothic mystery debut that combines literary suspense and romance with a mystical twist, The Gates of Evangeline is a story that readers of Gillian Flynn, Kate Atkinson, and Alice Sebold won't be able to put down.
About the Author
---
Hester Young holds a master's degree in English with a creative writing concentration from the University of Hawai'i at Mānoa, and her short stories have appeared in magazines such as Hawai'i Review. Before turning to writing full-time, she worked as a teacher in Arizona and New Hampshire. She is also the author of the forthcoming novel The Shimmering Road. Young lives in Lawrenceville, New Jersey, with her husband and their two children.  
Praise For…
---
A Publishers Weekly Best Book of 2015

"In this spooky thriller, everyone's a suspect, and the plot twists will keep you guessing."
--People Magazine 

"[H]aunting, heartbreaking, yet ultimately hopeful...Young handles the spectral elements with restraint as her tremendously sympathetic heroine seeks to build a new life after death." —Publishers Weekly (starred review)

"[A] dreamy, Southern gothic mystery…Young's novel is powerful and captivating." —New Orleans Magazine

"[T]he hothouse atmosphere of Evangeline and the tortuous and tangled motives of its denizens make for an enjoyable puzzle box of a mystery. An eerie but inviting debut." —Kirkus Reviews

"In Hester Young's haunted Louisiana, the ghostly labyrinth of the past opens its great doors to deliver up a lush gothic thriller. The Gates of Evangeline is a darkly marvelous debut, a classic whodunnit stitched with otherworldly chills."
—Jedediah Berry, author of the Hammett-prize winning The Manual of Detection

"What a delicious book! Gripping and atmospheric—with a heart-stopping twist—The Gates of Evangeline is an imaginative blend of southern gothic, family epic and spooky whodunit. Trust me: you won't just read Hester Young's debut, you will absorb this gorgeous novel using all 'six' senses." 
—Jillian Medoff, bestselling author of I Couldn't Love You More and Hunger Point

"Hester Young's The Gates of Evangeline is not just a riveting story about the search for a long missing child. It's also a powerful and haunting examination of a mother's grief and her long road to recovery. Hester Young's protagonist, Charlotte "Charlie" Cates, is tough and vulnerable, wounded and fearless, and I simply could not stop reading this thrilling, beautifully written Southern Gothic mystery. I can't wait for the next entry in this captivating new series."
 —David Bell, author of Cemetery Girl and Somebody I Used to Know

"Young's The Gates of Evangeline is a stunning debut novel. A lyrical, haunting, heart-wrenching work of suspense with echoes of du Maurier, Hitchcock, and King."
—Reed Farrel Coleman, New York Times bestselling author of Robert B. Parker's The Devil Wins

"Step through The Gates of Evangeline with Charlotte Cates, a grief-stricken Northerner tasked with uncovering a Southern dynasty's dark secrets. Hair-raising and heart-rending, Hester Young's first novel is one of buried shame, children taken too soon, and, ultimately, of immense true love that binds across the mortal divide."
—Miranda Beverly-Whittemore, New York Times best-selling author of Bittersweet

"The Gates of Evangeline is a wonderfully evocative, chilling mystery layered with themes of love, faith and devotion that is sure to haunt readers' dreams long after they've turned the last page."
--Shelf Awareness, Maximum Shelf feature title

"...a thrilling Southern Gothic mystery. Full of family secrets, betrayals and unexpected romances, it pulls readers along on a dark, twisted ride through the Louisiana swamp."
--BookPage 

'This sweeping, hypnotic debut is from a young American with a fresh voice and a taste for the lush, Gothic world of the American Deep South… The incestuous atmosphere is beautifully evoked.. Eerie and haunting, the novel is as addictive as mint juleps served by the servants in white gloves on the veranda… and just as creepy'
--Daily Mail

"The Gates of Evangeline is gripping, with a tremendous sense of place…Hester Young has created a carefully crafted and fantastic literary debut. Read it, but don't expect to be able to put it down."
--Frost Magazine

"Readers of The Gates of Evangeline may want to strap on their metaphorical life jackets for the wild and exhilarating ride that is this startling debut novel by Hester Young…Dreamy, steamy, scary, sometimes deliberately confusing and always thoroughly entertaining, The Gates of Evangeline is an unusual and delightful Southern gothic-meets-romance-meets-thriller concoction."
--Ft. Worth Star-Telegram