Midnight Crossroad (Hardcover)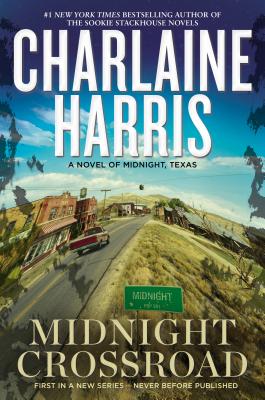 Email or call for price
Special Order - Subject to Availability
Other Books in Series
Staff Reviews
---
Midnight Crossroads by Charlaine Harris is a great start to her newest trilogy.  Harris gives us a  new paranormal world that is sure to excite her past readers and entice new ones to start reading her novels.  Welcome to the quiet town of Midnight, Texas where people keep to themselves while still looking out for their neighbors.  Manfred is the newest member to this quirky town and it doesn't take him long to learn the ins-and-outs of the town.  However, he is often left wondering about his neighbors and what their back-story is.  Before long things  get a little interesting in Midnight when the townspeople discover a body out in the desert. Now everyone is left wondering who is the killer.
Midnight Crossroads really focuses on getting you into to town-life and the people who live there.  While there is a mystery to be solved, the story is really more about Manfred finding his place in his new town.  I really like that Harris gives you just enough information about the townspeople to keep you happy but still leaves you wanting more.  I am excited to see where the next two books go because I feel like she is setting us up for something exciting.
— Jody
Description
---
SOON TO BE A NBC TV SERIES
From Charlaine Harris, the bestselling author who created Sookie Stackhouse and her world of Bon Temps, Louisiana, comes a darker locale--populated by more strangers than friends. But then, that's how the locals prefer it...
Welcome to Midnight, Texas, a town with many boarded-up windows and few full-time inhabitants, located at the crossing of Witch Light Road and Davy Road. It's a pretty standard dried-up western town.
There's a pawnshop (someone lives in the basement and is seen only at night). There's a diner (people who are just passing through tend not to linger). And there's new resident Manfred Bernardo, who thinks he's found the perfect place to work in private (and who has secrets of his own).
Stop at the one traffic light in town, and everything looks normal. Stay awhile, and learn the truth...
About the Author
---
Charlaine Harris is a New York Times bestselling author for both her Sookie Stackhouse fantasy/mystery series and her Harper Connelly Prime Crime mystery series. She has lived in the South her entire life. Her Sookie Stackhouse novels include: Dead Until Dark, Living Dead in Dallas, Club Dead, Dead to the World, Dead as a Doornail, Definitely Dead, All Together Dead, From Dead to Worse, Dead and Gone, Dead in the Family, Dead Reckoning, Deadlocked, and Dead Ever After.
Praise For…
---
"With polished ease, Harris brings her cast on stage, pairs them off to reveal character through conversation, and ambles the mystery along...While not ignoring the downsides of smalltown life, with too-knowing neighbors and teens desperate to get out, Harris also works in its joys and comforts. This is a solid entry in Harris's catalogue and will do very well with her fans."—Publishers Weekly

Praise for Charlaine Harris and her #1 New York Times bestselling Sookie Stackhouse novels:

"Harris treasures the everyday routines of small-town family life, burnishing little moments until they glow."—Los Angeles Times

"Inventive and funny with an engaging, smart, and sexy heroine."—The Denver Post

"[Harris's] mash-up of genres is delightful, taking elements from mysteries, horror stories, and romances."—Milwaukee Journal Sentinel