Mind Over Murder: A Raven's Nest Bookstore Mystery (Mass Market)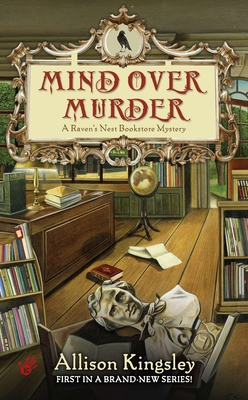 $8.79
Usually Ships in 1-5 Days
Staff Reviews
---
Clara Quinn moves back home to the coast of Maine once she realizes that New York City isn't all that it is cracked up to be. It doesn't take long for her cousin Stephanie to convince her to work for her at the Ravens Nest Bookstore, which admittedly isn't exactly what she wants to do, but how do you say no to family. However, things are not so peaceful at the store. In fact, Clara discovers a body in the storage room of the bookstore. Now her crazy, but lovable cousin, has decided they need to uncover the murderer by using Clara's Quinn Senses.This is a family psychic talent that allows Clara to hear voices that guide her to the truth But since she has blocked the Sense for so long, it is difficult to understand.
Mind over Murder by Allison Kingsley is a fun cozy mystery. The cousins are great characters and the small town vibe is great. Any book that takes place in a bookstore is a winner for me and this was no exception. I have already read the next two in the series. Paranormal and cozy, what more could someone want.
— Tricia
Description
---
Cousins and best friends, Clara and Stephanie Quinn run The Raven's Nest Bookstore, where people go to find their most coveted reads. But they have no idea it's the psychically-gifted Clara who's reading them...
The bookstore has made an enemy of the town crier, Ana Jordon, who claims that the store's occult collection is "poisoning" the town's youth. Meanwhile, the store's number-one employee, Molly, has made no secret of her anger over Ana's antics. So when Ana is found dead, killed by the bust of Edgar Allen Poe sculpted by Molly, the evidence is stacked against her. And Clara must rely on her gift to make sense of this senseless murder...
About the Author
---
Allison Kingsley is the author of the Raven's Nest Bookstore Mysteries, including Mind Over Murder, A Sinister Sense, Trouble Vision, and Extra Sensory Deception.