Conversion (Hardcover)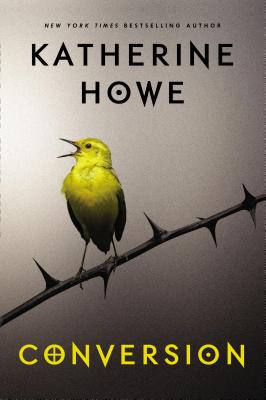 Email or call for price
Special Order - Subject to Availability
Staff Reviews
---
Conversion by Katherine Howe is a mysterious tale about a private school in Danvers and a mysterious illness that takes over. Colleen is doing her best to stay focused during her senior year but she is juggling quite a few things. First, and most importantly, would be her college applications and interviews. Plus she is desperately trying to stay at the top of her class while trying to hang out with her friends. However shortly into the spring semester Clara (one of the most popular girls in school) is found convulsing on the floor. No one know what caused her to have a "fit" and before long more and more girls are coming down with the mysterious illness that no one can diagnose or stop. As the weeks continue Colleen, who has been reading The Crucible for class, begins to wonder if there is a correlation with the girls of Salem Village and her school. After all, Danvers was once Salem Village. I liked how Howe told the story and paralleled the current girls with the girls of Salem Village. She did a great job of keeping her readers in suspense and just as clueless as everyone else. You could really feel the pressure the girls were facing with preparing for college and daily life, creating very believable characters. It was easy to get caught up in the drama of their illness and wonder who was going to be next. The Crucible was one of my favorite high school reads, so I must confess that I really enjoyed the historical look at the Salem Village, as well as Colleen's examination of the play. It was interesting to read about the original girls and how quickly they were all swept up in the herd mentality and how quickly it spun out of hand. This is a fun summer read for someone looking for a YA book that is off the beaten path.
— Jody
Description
---
From the New York Times bestselling author of The Physick Book of Deliverance Dane comes a chilling mystery--Prep meets The Crucible. It's senior year at St. Joan's Academy, and school is a pressure cooker. College applications, the battle for valedictorian, deciphering boys' texts: Through it all, Colleen Rowley and her friends are expected to keep it together. Until they can't. First it's the school's queen bee, Clara Rutherford, who suddenly falls into uncontrollable tics in the middle of class. Her mystery illness quickly spreads to her closest clique of friends, then more students and symptoms follow: seizures, hair loss, violent coughing fits. St. Joan's buzzes with rumor; rumor blossoms into full-blown panic. Soon the media descends on Danvers, Massachusetts, as everyone scrambles to find something, or someone, to blame. Pollution? Stress? Or are the girls faking? Only Colleen--who's been reading The Crucible for extra credit--comes to realize what nobody else has: Danvers was once Salem Village, where another group of girls suffered from a similarly bizarre epidemic three centuries ago . . . Inspired by true events--from seventeenth-century colonial life to the halls of a modern-day high school--Conversion casts a spell. With her signature wit and passion, New York Times bestselling author Katherine Howe delivers an exciting and suspenseful novel, a chilling mystery that raises the question, what's really happening to the girls at St. Joan's?
About the Author
---
Katherine Howe is the author of the New York Times bestseller The Physick Book of Deliverance Dane and The House of Velvet and Glass. She is a lecturer in American Studies at Cornell University. She is also a direct descendant of three of the women accused of witchcraft during the Salem Witch trials, one who was hanged and two who survived. Her books have been published around the world in 23 languages to date. Visit her at www.katherinehowe.com and follow her on twitter @KatherineBHowe.