Big Little Lies (Hardcover)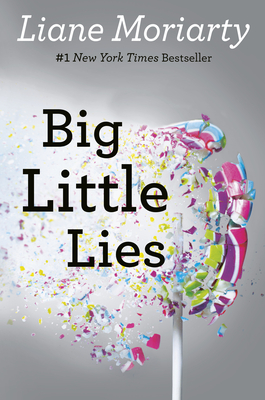 $26.95
Usually Ships in 1-5 Days
Staff Reviews
---
Liane Moriarty's Big Little Lies is an engrossing story about three women, an elementary school, and a murder. Jane is new to this small beach-side community, eager for a fresh new start and a fabulous first year of school for her son. Madeline has been in the community for years. Her children have all gone to the same primary school, but now her ex-husband has moved to the small suburb with his new wife and daughter. To make things worse, his daughter will be in the same class as her son-seriously? Celeste appears to have it all. The big mansion on the beach, the rich husband, and two incredibly rambunctious twin boys. However, things are not always as they appear for these women and each one is hiding something.
I really liked this book. Moriarty told the story in such a clever way with the details of the days leading up to the "night" and the interviews of parents regarding the incident being blended into each chapter. There is always the driving force of discovering who was murdered but it was also easy to get caught up in the daily drama and wonderful characters. Moriarty also captures the atmosphere of the beach community in Australia. You can really see yourself having coffee on the beach. I wouldn't classify this as mystery or thriller novel, it is very much a contemporary fiction novel with a side of murder. This would also be a great book club read.
— Jody
Description
---
DON'T MISS SEASON 2 OF THE GOLDEN GLOBE AND EMMY AWARD-WINNING HBO® SERIES 
STARRING REESE WITHERSPOON, NICOLE KIDMAN, SHAILENE WOODLEY, LAURA DERN, ZOË KRAVITZ, AND MERYL STREEP

From the author of Nine Perfect Strangers, Truly Madly Guilty, and The Husband's Secret comes the #1 New York Times bestselling novel about the dangerous little lies we tell ourselves just to survive.

A murder...A tragic accident...Or just parents behaving badly? What's indisputable is that someone is dead.

Madeline is a force to be reckoned with. She's funny, biting, and passionate; she remembers everything and forgives no one. Celeste is the kind of beautiful woman who makes the world stop and stare but she is paying a price for the illusion of perfection. New to town, single mom Jane is so young that another mother mistakes her for a nanny. She comes with a mysterious past and a sadness beyond her years. These three women are at different crossroads, but they will all wind up in the same shocking place.

Big Little Lies is a brilliant take on ex-husbands and second wives, mothers and daughters, schoolyard scandal, and the little lies that can turn lethal.
About the Author
---
Liane Moriarty is the #1 New York Times bestselling author of Truly Madly Guilty, Big Little Lies, The Husband's Secret, The Hypnotist's Love Story, and What Alice Forgot. She lives in Sydney, Australia, with her husband and two children.

 
 
 
 
 
 
Praise For…
---
Praise for Big Little Lies

"Ms. Moriarty's long-parched fans have something new to dig into…Big Little Lies [may have] even more staying power than The Husband's Secret."—The New York Times

"Funny and thrilling, page-turning but with emotional depth, Big Little Lies is a terrific follow-up to The Husband's Secret."—Booklist (starred review)

"Big Little Lies tolls a warning bell about the big little lies we tell in order to survive. It takes a powerful stand against domestic violence even as it makes us laugh at the adults whose silly costume party seems more reminiscent of a middle-school dance."—The Washington Post

"Moriarty demonstrates an excellent talent for exposing the dark, seedy side of the otherwise "perfect" family unit…Highly recommended."—Library Journal  (starred review)

"Irresistible…Exposing the fault lines in what looks like perfection is a specialty of Liane Moriarty… Moriarty's sly humor and razor-sharp insights will keep you turning the pages to find out."—People Magazine
 
"The secrets burrowed in this seemingly placid small town...are so suburban noir they would make David Lynch clap with glee...[Moriarty] is a fantastically nimble writer, so sure-footed that the book leaps between dark and light seamlessly; even the big reveal in the final pages feels earned and genuinely shocking."—Entertainment Weekly

"If you're looking for a novel that will turn you into a compulsive book-finisher look no further. Moriarty has produced another gripping, satirical hit...It's can't-put-downability comes from its darker subplots...A book that will make you appreciate the long days of summer."—Oprah.com

"Reading one [of Liane Moriarty's novels] is a bit like drinking a pink cosmo laced with arsenic...a fun, engaging and sometimes disturbing read…Moriarty is back in fine form."—USA Today

"A juicy drama."—People Stylewatch

"Not your average mommy novel. It's a juicy, twisted murder mystery replete with themes of marital abuse and self-denial…The perfect mindless beach read."—Purewow.com

"Suburbia is about to get a lot more scandalous."—Closer Weekly 

"The Aussie author of last year's runaway hit The Husband's Secret comes back with another winning and wise novel that intertwines the lives of three women."—EW.com

"It's no mystery why Liane Moriarty is a summer staple: with wit and compassion...[she] keeps it real."—Family Circle

"Riveting and insightful…Moriarty has crafted a great summer read full of perceptive glimpses into the many guises of human relationships: mother-child, husband-wife (and ex-wife) and above all, the strong bond of female friendships."—Bookpage

"Deservedly popular Moriarty invigorates … women's fiction through wit, good humor, sharp insight into human nature and addictive storytelling."—Kirkus Reviews (starred review)