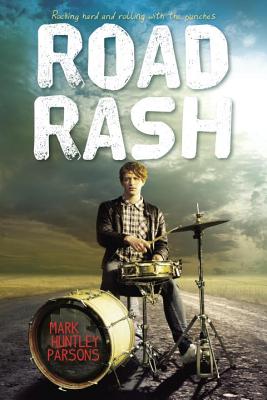 $10.99
Usually Ships in 1-5 Days
Staff Reviews
---
Road Rash by Mark Huntley Parsons is a fantastic contemporary young adult novel.  Anyone looking for witty characters with engaging dialogue and a fun story should read this book.  Zach is ready to rock his way through summer with his band, and best of all they have a steady local venue where they will get paid to play.  It seems great until his band  kicks him out, leaving him without his best friend and a summer filled with manual labor.  Thankfully Kimber, his ex-best friend's younger sister, has been surprisingly supportive and nice.  She keeps telling him that he is a great drummer and things will turn around, and she could be right.  The towns best local band wants him to be their new drummer and tour the northern Rockies playing shows all summer.  This could be the best summer yet!
I loved this book!   Zach was an entertaining character who you instantly become attached to.  The interactions between characters are fantastic.  He and Kimber are adorable and a fresh new love story to read about.  I also love how mature Zach is.  He is wise beyond his years, which is great because everyone else needed someone who is stable to make things work.  I am not a fan of rock star books, but Parsons made even a reluctant music fan fall in love with his story.  He uses enough drummer jargon to make you believe Zach, but not too much to overwhelm the reader.  This is my staff pick for the month of April and it is sure to win over anyone who reads it.
— Jody
Description
---
A teenage drummer finds out what life is really like on tour with a rock band in this funny and bittersweet YA novel. For anyone who loved Almost Famous or This Is Spinal Tap.
 
After being dropped from one band, sixteen-year-old drummer Zach gets a chance to go on tour with a much better band. It feels like sweet redemption, but this is one rocky road trip—filled with jealousy, rivalries, and on-stage meltdowns.
 
Mark Parsons has written a fast-paced, feel-good novel about a boy finding his place in the world, in a band, and in the music. Zach is a character teens will stand up and cheer for as he lands the perfect gig, and the perfect girl.
 
"A must-read for young garage-band types." —Booklist
 
"Readers and especially musicians should enjoy debut novelist Parsons's look at a band on the run." —Publishers Weekly
 
"A road-trip adventure in romance and friendship that is ultimately all about the music." —Kirkus Reviews
About the Author
---
MARK PARSONS has been a drummer since 7th grade when he saved $100 from his paper route to buy a used drumset, and he's been pounding away ever since. He's a long-standing contributor for Modern Drummer magazine, and has written non-fiction books on audio and music-related topics.

Mark lives on the Central Coast of California with his wife and two sons (the four of whom comprise the ever-eclectic dance-rock band, Risky Whippet). Road Rash is his debut novel.
Praise For…
---
"Where Road Rash crescendos is in its treatment of tumultuous friendships among bandmates, confounding but transfixing first romances, exhilarating tastes of teenage travel freedom, and the passion for pursuing the dream of a future in music. A must-read for young garage-band types." —Booklist
 
"A road-trip adventure in romance and friendship that is ultimately all about the music. . . . Readers will find their heads nodding and toes tapping as though they were in the crowd." —Kirkus Reviews
 
"Readers and especially musicians should enjoy debut novelist Parsons's look at a band on the run." —Publishers Weekly

"The play of relationships and the plot arc of dreams realized broadens the appeal beyond those with Guitar Hero dreams." --The Bulletin

"For all you readers out there who hold jam sessions with your friends in the garage, Road Rash is for you!" -- Teenreads.com