The Beautiful and the Cursed (The Dispossessed #1) (Hardcover)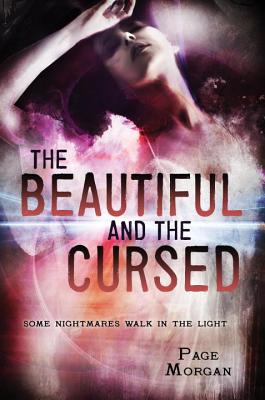 Staff Reviews
---
The Beautiful and the Cursed by Page Morgan is a gripping Gothic tale filled with gargoyles, demons, love and the dark streets of 19th century Paris.  Ingrid and Gabby move to Paris to help their mother establish a new art gallery.  Grayson, Ingrid's twin brother, moved a few weeks earlier  to find them an estate for their new business and house, but once the girls and their mother arrive they discover that he is missing.  Determined to track their brother down, Ingrid and Gabby soon find themselves in a world filled with creatures that they once believed were only in fairy tales.
I love this book and can't wait to start The Lovely and the Lost.  Morgan's world is dark and gritty and so much fun to get lost in.  You can feel the dark creature's presence as you follow the girls into the bowels of Paris.  I really liked that she gave  Ingrid and Gabby full personalities rather than just focusing on one sister.  Even though Gabby doesn't have the same talents as Ingrid, we discover that she is just as fierce and strong as her sister.  The gargoyle mythology was so refreshing!  Finally a new creature to fall in love with, and yes Luc is sure to steal your heart.  Morgan created a unique series that has me entranced and excited to keep following.  This is sure to capture the attention of any YA paranormal fan.
Page Morgan will be attending the year's Tucson Festival of Books.  She will be signing at our booth (#130 to #135)  10 AM on Saturday.  Come meet her and get an autographed copy of her fabulous book.
— Jody
Description
---
Fans of Cassandra Clare's Mortal Instruments series and Lauren Kate's Fallen novels will devour The Beautiful and the Cursed, a wholly original interpretation of gargoyle lore. 
   After a bizarre accident, Ingrid Waverly is forced to leave London with her mother and her younger sister, Gabby, trading a world full of fancy dresses and society events for the unfamiliar city of Paris.
   In Paris there are no grand balls or glittering parties for Ingrid, and, disturbingly, the house her twin brother, Grayson, was sent ahead to secure for the family isn't a house at all. It's an abandoned abbey, its roof lined with stone gargoyles that could almost be mistaken for living, breathing creatures.
   And Grayson is missing.
   Yet no one seems worried about his whereabouts save for Luc, a devastatingly handsome servant at their new home.
   Ingrid is sure her twin isn't dead--she can feel it deep in her soul--but she knows he's in grave danger, and that it's up to her and Gabby to find him before all hope is lost.
   The path to Grayson will be twisted, leading Ingrid to discover dark secrets and otherworldly truths that, once uncovered, can never again be buried.

Praise for the Dispossessed Trilogy:

"A deliciously satisfying mix of historical fiction, mystery, and supernatural romance."—The Bulletin

"Morgan combines fantasy with gothic romance in this well-crafted standout."—Booklist

"Forbidden romance and hot kissing abound."—Kirkus Reviews

"Morgan keeps the plot moving with constant action…dark adventure and romance."—School Library Journal

"Morgan's fluid descriptions, inventive otherworldly elements, and characters with convincing motivations result in an immersive first installment."—Publishers Weekly
About the Author
---
Page Morgan has been fascinated with les grotesques ever since she came across an old black-and-white photograph of a Notre Dame gargoyle keeping watch over the city of Paris. The gargoyle mythologies she went on to research fed her imagination, and she became inspired to piece together her own story and mythology for these remarkably complex stone figures. Page lives in New Hampshire with her husband and their three children.
  Visit her at pagemorganbooks.com and look for the sequel, The Lovely and the Lost, available from Delacorte Press in 2014.
Praise For…
---
Praise for the Dispossessed Trilogy:

"A deliciously satisfying mix of historical fiction, mystery, and supernatural romance."—The Bulletin

"Morgan combines fantasy with gothic romance in this well-crafted standout."—Booklist

"Forbidden romance and hot kissing abound."—Kirkus Reviews

"Morgan keeps the plot moving with constant action…dark adventure and romance."—School Library Journal

"Morgan's fluid descriptions, inventive otherworldly elements, and characters with convincing motivations result in an immersive first installment."—Publishers Weekly