The Forest of Hands and Teeth (Paperback)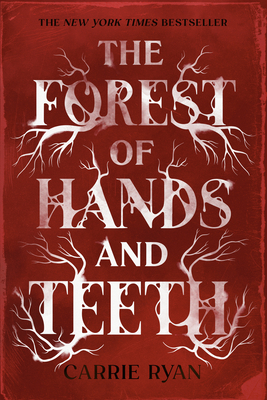 $9.99
Usually Ships in 1-5 Days
Other Books in Series
This is book number 1 in the Forest of Hands and Teeth series.
Staff Reviews
---
The Forest of Hands and Teeth by Carrie Ryan is incredibly gripping tale of life among the Unconsecrated, or zombies. Mary has grown up surround by the undead for her entire life with only a fence separating her and her village from certain death. Life is all about listening to the Sisterhood and Guardians, who are the keepers of their knowledge and protectors. After her mother and father returned as the undead, Mary is forced to join the Sisterhood and now she is learning that perhaps there is life outside of the fence, maybe a life without the Unconsecrated. Things quickly go from bad to worse for Mary when her village is infiltrated by the undead. Now her dreams of escaping the fence has become a reality and only option for survival. With her brother and friends, Mary runs down the forbidden fenced-in path in hopes of finding the ocean and a world without zombies.
What a great horror story filled with tales of first love and growing up. Ryan did such a great job capturing the fear of living with flesh-eating zombies while simultaneously showing the characters as being desensitized from the constant presents of the Unconsecrated. I also like all of the big issues that Mary was forced to work through while fighting her way to freedom. She tried to come to a better understanding of friendship, love, death, and hope. Ryan created a precocious female character who has incredible courage and determination. It was easy to cheer her on in her quest.
— Jody
Spring '09 Kids List
---
"With a story that alternates between gut-wrenchingly romantic and skin crawling creepy, Ryan's novel will scare the pants off even the most seasoned horror fans, but will also break the hardest of hearts. A brilliant start to what I hope is a long career."
— Katie Glasgow, Mitchell Books, Fort Wayne, IN
Description
---
In Mary's world there are simple truths.
   The Sisterhood always knows best.
   The Guardians will protect and serve.
   The Unconsecrated will never relent.
   And you must always mind the fence that surrounds the village; the fence that protects the village from the Forest of Hands and Teeth.
   But, slowly, Mary's truths are failing her. She's learning things she never wanted to know about the Sisterhood and its secrets, and the Guardians and their power. And, when the fence is breached and her world is thrown into chaos, about the Unconsecrated and their relentlessness.
   Now, she must choose between her village and her future, between the one she loves and the one who loves her. And she must face the truth about the Forest of Hands and Teeth. Could there be life outside a world surrounded in so much death?

[STAR] "A bleak but gripping story...Poignant and powerful."-Publishers Weekly, Starred

"A postapocalyptic romance of the first order, elegantly written from title to last line."-Scott Westerfeld, author of the Uglies series and Leviathan

"Intelligent, dark, and bewitching, The Forest of Hands and Teeth transitions effortlessly between horror and beauty. Mary's world is one that readers will not soon forget."-Cassandra Clare, bestselling author of City of Bones

"Opening The Forest of Hands and Teeth is like cracking Pandora's box: a blur of darkness and a precious bit of hope pour out. This is a beautifully crafted, page-turning, powerful novel. I thoroughly enjoyed it."-Melissa Marr, bestselling author of Wicked Lovely and Ink Exchange

"Dark and sexy and scary. Only one of the Unconsecrated could put this book down."-Justine Larbalestier, author of How to Ditch Your Fairy
About the Author
---
   CARRIE RYAN is the New York Times bestselling author of The Forest of Hands and Teeth trilogy that includes The Forest of Hands and Teeth, The Dead-Tossed Waves, The Dark and Hollow Places, and the original ebook Hare Moon. She has edited the short story anthology Foretold: 14 Stories of Prophecy and Prediction and contributed to many other story collections herself, including Zombies vs. Unicorns, Kiss Me Deadly, and Enthralled. Her work has been translated into over eighteen languages and her first novel is in production as a major motion picture. Born and raised in Greenville, South Carolina, Carrie is a graduate of Williams College and Duke University School of Law. A former litigator, she now writes full time and lives in Charlotte, North Carolina. Visit her at CarrieRyan.com.
Praise For…
---
Starred Review, Publishers Weekly, February 2, 2009:
"Mary's observant, careful narration pulls readers into a bleak but gripping story of survival and the endless capacity of humanity to persevere . . .Fresh and riveting."

Starred review, School Library Journal, May 2009:
"[T]he suspense that Ryan has created from the very first page on entices and tempts readers so that putting the book down is not an option."