Inferno: Featuring Robert Langdon (Hardcover)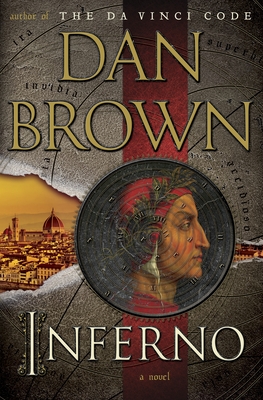 $29.95
Usually Ships in 1-5 Days
Other Books in Series
This is book number 4 in the Robert Langdon series.
Staff Reviews
---
Inferno by Dan Brown is the latest novel featuring Professor Robert Langdon and it was spine-tingling good.  Langdon wakes up in a Florence hospital with no memory of leaving Harvard two days prior, but he does find a strange object tucked away in his belongings. Thus begins an exciting mystery that leads us deep into the symbolism of Dante's Inferno as Langdon attempts to discover what happened during the missing two days and why trained assassins are trying to kill him.  Luckily he has the help of Dr. Sienna Brooks as he hunts down and pieces the puzzle together.
This book reminded me why I love Dan Brown's writing.  It is filled with captivating intrigue, page-turning suspense, and of course history and art.  I love all of the historical information and symbolism.  It is such a fascinating subject and Brown makes it fun to read.  Brown brings up many of the double meanings found throughout Dante's Inferno as well as in the painting that attempt to capture the Inferno. It has been a long time since I read Dante's Inferno but after reading Brown's I find myself really wanting to go back and read it.   If you are craving a new thriller that is certain to keep you absorbed until the last sentence, than this would be a great choice. 
— Tricia
Description
---
NOW A MAJOR MOTION PICTURE

With the publication of his groundbreaking novels The Da Vinci Code, The Lost Symbol, and Angels & Demons, Dan Brown has become an international bestselling sensation, seamlessly fusing codes, symbols, art, and history into riveting thrillers that have captivated hundreds of millions of readers around the world. Now, Dan Brown takes readers deep into the heart of Italy . . . guiding them through a landscape that inspired one of history's most ominous literary classics.

"The darkest place in hell are reserved for those who maintain their neutrality in times of moral crisis."

Harvard professor of symbology Robert Langdon awakens in a hospital in the middle of the night. Disoriented and suffering from a head wound, he recalls nothing of the last thirty-six hours, including how he got there . . . or the origin of the macabre object that his doctors discover hidden in his belongings.
     Langdon's world soon erupts into chaos, and he finds himself on the run in Florence with a stoic young woman, Sienna Brooks, whose clever maneuvering saves his life. Langdon quickly realizes that he is in possession of a series of disturbing codes created by a brilliant scientist—a genius whose obsession with the end of the world is matched only by his passion for one of the most influential masterpieces ever written—Dante Alighieri's dark epic poem The Inferno.
     Racing through such timeless locations as the Palazzo Vecchio, the Boboli Gardens, and the Duomo, Langdon and Brooks discover a network of hidden passageways and ancient secrets, as well as a terrifying new scientific paradigm that will be used either to vastly improve the quality of life on earth . . . or to devastate it.
     In his most riveting and thought-provoking novel to date, Dan Brown has raised the bar yet again. Inferno is a sumptuously entertaining read—a novel that will captivate readers with the beauty of classical Italian art, history, and literature . . . while also posing provocative questions about the role of cutting-edge science in our future.
About the Author
---
Dan Brown is the author of The Da Vinci Code, one of the most widely read novels of all time, as well as the international bestsellers Inferno, The Lost Symbol, Angels & Demons, Deception Point, and Digital Fortress. He lives in New England with his wife.
Praise For…
---
"Jampacked with tricks...A BOOK-LENGTH SCAVENGER HUNT that Mr. Brown creates so energetically."--Janet Maslin, The New York Times
 
"AS CLOSE AS A BOOK CAN COME TO A SUMMERTIME CINEMATIC BLOCKBUSTER…Brown builds up Langdon's supporting cast, which is the strongest yet."--USA Today
 
"FAST, CLEVER, WELL-INFORMED…DAN BROWN IS THE MASTER OF THE INTELLECTUAL CLIFFHANGER."--The Wall Street Journal
 
"BROWN IS AT HIS BEST when he makes readers believe that dusty books and musty passageways are just covers for ancient global conspiracies."--The Washington Post
 
"A DIVERTING THRILLER…Brown stocks his latest book with all the familiar elements:  puzzles, a beautiful female companion, and hints of secret conspiratorial agendas."--EW.com

"Brown gives us lots of history and culture…but he puts the story first. INFERNO IS THE KIND OF SATISFYING ESCAPIST READ THAT SUMMERS WERE MADE FOR."--The Boston Globe

"HARROWING FUN threaded with coded messages, art history, science, and imminent doom."--Daily News (New York)