An Echo in the Bone: A Novel (Outlander #7) (Hardcover)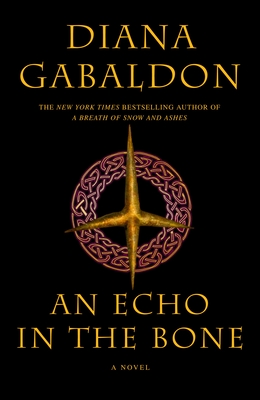 $35.00
Usually Ships in 1-5 Days
Other Books in Series
This is book number 7 in the Outlander series.
Staff Reviews
---
An Echo in the Bone by Diana Gabaldon is the most recent addition to the Outlander series and once again takes us back in time to catch up with our old friends, Jamie and Claire. The Fraser family has been split-up with Brianna and Roger and the kids going back to their time (the 1980's) and Jamie, Claire and Ian are frantically trying to get back to Scotland before the madness of the American Revolutionary War really begins. Of course, Jamie being Jamie, they are unable to completely avoid fighting in historical battles and meeting some very famous and infamous players of the war.
I absolutely adore Gabaldon's stories and writing. It is so easy to escape to another time period and place with her writing. It also never ceases to amaze me the ability Gabaldon has in showing so many different perspectives and personalities in her writing. She has such a range of emotions and personality quirks that each character is fully formed and completely different than all the rest. This book looks at life through the eyes of Claire, Jamie, Brianna, Roger, and additionally John Grey and William. I wasn't sure if I was going to like being involved with so many characters, when typically I prefer to read about the immediate Fraser clan. However, I really enjoyed being able to see the whole Revolutionary War take shape from all sides, which wouldn't have been as successful if we only had Claire or Jamie's perspective. Not to mention, it was fun to see all the characters run into each other, making for a very small world. If you are looking for a new author that includes great characters and action as well as well written, then pick up Outlander (the first book in the series) and get swept away to eighteenth century Scotland.
— Jody
Description
---
Diana Gabaldon's brilliant storytelling has captivated millions of readers in her bestselling and award-winning Outlander saga. In An Echo in the Bone, the seventh volume, Gabaldon continues the extraordinary story of the eighteenth-century Scotsman Jamie Fraser and his twentieth-century time-traveling wife, Claire Randall.

Jamie Fraser, former Jacobite and reluctant rebel, is already certain of three things about the American rebellion: The Americans will win, fighting on the side of victory is no guarantee of survival, and he'd rather die than have to face his illegitimate son—a young lieutenant in the British army—across the barrel of a gun.

Claire Randall knows that the Americans will win, too, but not what the ultimate price may be. That price won't include Jamie's life or his happiness, though—not if she has anything to say about it.

Meanwhile, in the relative safety of the twentieth century, Jamie and Claire's daughter, Brianna, and her husband, Roger MacKenzie, have resettled in a historic Scottish home where, across a chasm of two centuries, the unfolding drama of Brianna's parents' story comes to life through Claire's letters. The fragile pages reveal Claire's love for battle-scarred Jamie Fraser and their flight from North Carolina to the high seas, where they encounter privateers and ocean battles—as Brianna and Roger search for clues not only to Claire's fate but to their own. Because the future of the MacKenzie family in the Highlands is mysteriously, irrevocably, and intimately entwined with life and death in war-torn colonial America.

With stunning cameos of historical characters from Benedict Arnold to Benjamin Franklin, An Echo in the Bone is a soaring masterpiece of imagination, insight, character, and adventure—a novel that echoes in the mind long after the last page is turned.
About the Author
---
Diana Gabaldon is the #1 New York Times bestselling author of the wildly popular Outlander novels—Outlander, Dragonfly in Amber, Voyager, Drums of Autumn, The Fiery Cross, A Breath of Snow and Ashes (for which she won a Quill Award and the Corine International Book Prize), An Echo in the Bone, and Written in My Own Heart's Blood—as well as a collection of Outlander fiction, Seven Stones to Stand or Fall; the related Lord John Grey books Lord John and the Private Matter, Lord John and the Brotherhood of the Blade, Lord John and the Hand of Devils, and The Scottish Prisoner; two works of nonfiction, The Outlandish Companion, Volumes 1 and 2; the Outlander graphic novel, The Exile; and The Official Outlander Coloring Book. She lives in Scottsdale, Arizona, with her husband.
Praise For…
---
"All you've come to expect from Gabaldon . . . adventure, history, romance, fantasy."
—The Arizona Republic