The Complete Persepolis: Now a Major Motion Picture (Pantheon Graphic Library) (Paperback)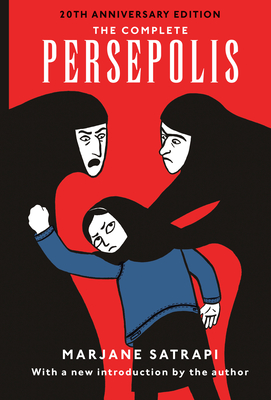 $25.95
Usually Ships in 1-5 Days
Staff Reviews
---
Marjane Satrapi's memoir The Complete Persepolis is an honest look at growing up in Iran during the Islamic Revolution.  Satrapi tells her story through the media of a graphic novel allowing her to depict her life not only through words but images.  This is a coming of age story that starts with a girl going to high school in Vienna, far from home and being forced to work through her depression and feelings of isolation.  After several years Satrapi returns to Iran but finds that her happiness is overshadowed by fundamentalist rules.  Eventually, she discovers that she must exile herself from her homeland.
The characters are genuine and real; I especially love her free-thinking parents.  You feel all of Satrapi's emotions as she goes from being an adolescent to an adult.  I thought the black and white child-like artwork suited the memoir – sometimes humorous while also covering serious issues.  It was fascinating to learn about Iran's history through the eyes of someone who's lived it.
— Sherry
Description
---
Here, in one volume: Marjane Satrapi's best-selling, internationally acclaimed graphic memoir.

Persepolis is the story of Satrapi's unforgettable childhood and coming of age within a large and loving family in Tehran during the Islamic Revolution; of the contradictions between private life and public life in a country plagued by political upheaval; of her high school years in Vienna facing the trials of adolescence far from her family; of her homecoming--both sweet and terrible; and, finally, of her self-imposed exile from her beloved homeland. It is the chronicle of a girlhood and adolescence at once outrageous and familiar, a young life entwined with the history of her country yet filled with the universal trials and joys of growing up.

Edgy, searingly observant, and candid, often heartbreaking but threaded throughout with raw humor and hard-earned wisdom--Persepolis is a stunning work from one of the most highly regarded, singularly talented graphic artists at work today.
About the Author
---
Marjane Satrapi was born in Rasht, Iran. She now lives in Paris, where she is a regular contributor to magazines and newspapers throughout the world, including The New Yorker, and The New York Times. She is the author of Embroideries, Chicken with Plums, and several children's books. She cowrote and codirected the animated feature film version of Persepolis.
Praise For…
---
"A memoir of growing up as a girl in revolutionary Iran, Persepolis provides a unique glimpse into a nearly unknown and unreachable way of life... That Satrapi chose to tell her remarkable story as a gorgeous comic book makes it totally unique and indispensable."
--Time