On Green Dolphin Street: A Novel (Vintage International) (Paperback)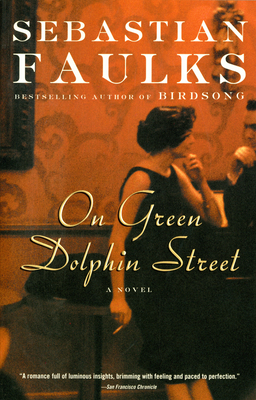 $17.60
Usually Ships in 1-5 Days
Description
---
The bestselling author of Birdsong and Charlotte Gray delivers an enthralling, vibrantly evocative novel set in America in 1960, when the country stood poised between the paranoia of the Cold War and the ebullience of the New Frontier.

Faulks' heroine is Mary Van der Linden, a pretty, reserved Englishwoman whose husband, Charlie, is posted to the British embassy in Washington. One night at a cocktail party Mary meets Frank Renzo, a reporter who has covered stories from the fall of Dienbienphu to the Emmett Till murder trial in Mississippi. Slowly, reluctantly, they fall in love. Their ensuing affair, in all its desperate elation, plays out against a backdrop that ranges from the jazz clubs of Greenwich Village to the smoke-filled rooms of the Kennedy campaign. A romance in the grand tradition that is also a neon-lit portrait of America at its apogee, On Green Dolphin Street is Sebastian Faulks at the peak of his powers.
About the Author
---
Sebastian Faulks is best known for his trilogy of novels set in France: The Girl at the Lion d'Or, Birdsong, and Charlotte Gray, the latter two of which were bestsellers. After a period in France, he and his family now live in London.
Praise For…
---
"A romance full of luminous insights, brimming with feeling and paced to perfection. . . . No contemporary author writes with more power, more eloquent simplicity." –San Francisco Chronicle

"Smart, well-wrought . . . a tenderly orchestrated love story. . . . everything an old-fashioned novel is supposed to do. . . . It will provoke and linger." –Chicago Tribune

"Faulks is an exquisite observer. . . . The characters inhabit a setting so exotic and vivid, so correct in all its details, that it floods them with animating light." –Newsday

"When passion erupts, Faulks is equal to the task. His prose gets it just right. . . . He has given us three very real, immensely appealing people." –The Washington Post Book World

"[A] thoughtful love story [and] a melodic mood piece." –The Oregonian

"Faulks has given us immensely appealing people, and only the hardhearted can fail to respond to their experiences with sympathy." –New York Post

"[A] vivid novel of New York. . . . Seductive and radiant prose. . . . Faulks captures beautifully the cadence of the United States 40 years ago." –Rocky Mountain News

"Exquisite. . . . Tragic. . . . [Faulks] displays to good advantage his considerable powers in describing the story's various landscapes." –The Seattle Times

"Faulks' achievement is that he renders the period and places so convincingly that they become intimately familiar." –Daily News (New York)

"Fans of Faulks . . . will find plenty of period atmosphere on which to hang their snap-brimmed fedoras." –People

"This wonderful novel . . . makes being a grown-up seem enviable, stylish, seductive. . . . A joyous book with a glow of pleasure." –Book