The Aviator's Wife: A Novel (Paperback)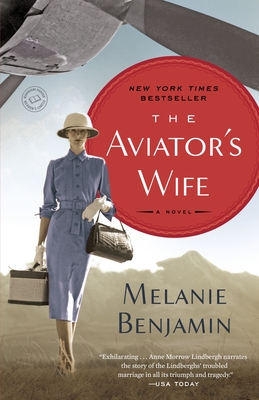 $16.00
Usually Ships in 1-5 Days
Staff Reviews
---
The Aviator's Wife by Melanie Benjamin is a historical fiction novel that explores the private life of Charles and Anne Lindbergh in their very public environment.  Anne and Charles meet shortly after he completes his first solo flight across the Atlantic.  It doesn't take long for the two to be swept up in their love for each other and begin their headlining marriage.  Anne quickly becomes the first female to carry a pilots license and becomes Charles co-pilot.  However, all of her success never brings her out of the shadows of her husband.  The two face many hardships over the years including the kidnapping of their son and  the public's dislike of Charles because of  his view towards Germany.  Despite everything, Anne always kept her adventuring spirit and continued to chase her dreams.
I really liked this book and I learned so much about this famous couple.  They were constantly being hounded by the press and having their every move scrutinized.  I can't  imagine the strain that would put on a marriage.  However, Anne was incredibly strong in an era when women were not considered to be.  She never let anything stop her.  This is a great book for anyone who loves historical fiction or needs a good read for their book club.  After finishing this book I realize that I want to know even more about Anne, so now I am reading War Within and Without: Diaries and Letters of Anne Morrow Lindbergh and I am planning to read Gift From the Sea (By Anne Morrow Lindbergh).
— Bobbe
February 2013 Indie Next List
---
""
— Vicki Erwin, Main Street Books, St.Charles, MO
Description
---
In the spirit of Loving Frank and The Paris Wife, acclaimed novelist Melanie Benjamin pulls back the curtain on the marriage of one of America's most extraordinary couples: Charles Lindbergh and Anne Morrow Lindbergh.
 
"The history [is] exhilarating. . . . The Aviator's Wife soars."—USA Today
 
NEW YORK TIMES BESTSELLER

When Anne Morrow, a shy college senior with hidden literary aspirations, travels to Mexico City to spend Christmas with her family, she meets Colonel Charles Lindbergh, fresh off his celebrated 1927 solo flight across the Atlantic. Enthralled by Charles's assurance and fame, Anne is certain the aviator has scarcely noticed her. But she is wrong. Charles sees in Anne a kindred spirit, a fellow adventurer, and her world will be changed forever. The two marry in a headline-making wedding. In the years that follow, Anne becomes the first licensed female glider pilot in the United States. But despite this and other major achievements, she is viewed merely as the aviator's wife. The fairy-tale life she once longed for will bring heartbreak and hardships, ultimately pushing her to reconcile her need for love and her desire for independence, and to embrace, at last, life's infinite possibilities for change and happiness.
 
Look for special features inside. Join the Random House Reader's Circle for author chats and more.

Praise for The Aviator's Wife
 
"Remarkable . . . The Aviator's Wife succeeds [in] putting the reader inside Anne Lindbergh's life with her famous husband."—The Denver Post

"Anne Morrow Lindbergh narrates the story of the Lindberghs' troubled marriage in all its triumph and tragedy."—USA Today
 
"[This novel] will fascinate history buffs and surprise those who know of her only as 'the aviator's wife.' "—People
 
"It's hard to quit reading this intimate historical fiction."—The Dallas Morning News
 
"Fictional biography at its finest."—Booklist (starred review)

"Utterly unforgettable."—Publishers Weekly (starred review)
 
"An intimate examination of the life and emotional mettle of Anne Morrow."—The Washington Post

"A story of both triumph and pain that will take your breath away."—Kate Alcott, author of The Dressmaker
About the Author
---
Melanie Benjamin is a pseudonym for Melanie Hauser, who has written two contemporary novels. She is the author of the nationally bestselling Alice I Have Been and The Autobiography of Mrs. Tom Thumb. Benjamin lives in Chicago, where she is at work on her next historical novel.
Praise For…
---
"The history is exhilarating. . . . The Aviator's Wife soars. . . . Anne Morrow Lindbergh narrates the story of the Lindberghs' troubled marriage in all its triumph and tragedy."—USA Today

"Remarkable . . . The Aviator's Wife succeeds [in] putting the reader inside Anne Lindbergh's life with her famous husband."—The Denver Post

"[This novel] will fascinate history buffs and surprise those who know of her only as 'the aviator's wife.' "—People
 
"It's hard to quit reading this intimate historical fiction."—The Dallas Morning News
 
"Fictional biography at its finest."—Booklist (starred review)

"Utterly unforgettable."—Publishers Weekly (starred review)
 
"An intimate examination of the life and emotional mettle of Anne Morrow."—The Washington Post

"A story of both triumph and pain that will take your breath away."—Kate Alcott, author of The Dressmaker
 
"Melanie Benjamin inhabits Anne Morrow Lindbergh completely, freeing her from the shadows of her husband's stratospheric fame."—Isabel Wolff, author of A Vintage Affair