Becoming Marie Antoinette: A Novel (Paperback)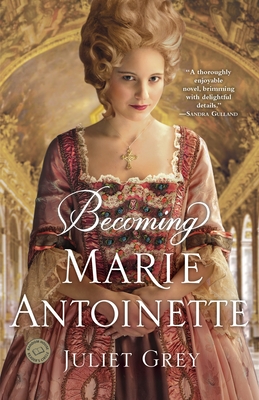 $18.70
Usually Ships in 1-5 Days
Other Books in Series
This is book number 1 in the Marie Antoinette series.
Staff Reviews
---
Becoming Marie Antoinette by Juliet Grey was an astounding beginning to a projected trilogy. Marie Antoinette, or Antonia to her Austrian family, was your typical carefree archduchess. However, Antonia's mother saw a great future for her youngest daughter, for she planned to follow the family motto, "you fortunate Hapsburgs, marry!", to the letter. A mutual alliance was plan to join Austria to France by marring Antonia to Lois XVI. This seem fairly straight forward since the kids were similar in age, but as time progresses the French found Antonia to be lacking in a few necessary qualities. Thus began the long and arduous transformation from Antonia to Marie Antoinette. Once married in France, Marie Antoinette found that her new life was quite different, and the dauphin (heir to the throne) hard to understand. This did not discourage her, for she knew her mother was counting on her, so instead Marie Antoinette forged ahead trying to understand the difficult court intrigues and many players.
This was a fabulous historical fiction novel and I can't wait to read the next two. In fact I would say this novel was by far the best I have read that tackles such an interesting and misunderstood queen. Grey weaves fun scandals into the history we all know. She also does a great job of showing the humorous and playful side of Marie Antoinette that at times was misunderstood. It was also refreshing to read about the noble deeds that Marie Antoinette carried out that are often forgotten due to the French revolution and her tragic death. As a historical fiction reader, I would highly recommend this novel.
— Jody
Description
---
This enthralling confection of a novel, the first in a new trilogy, follows the transformation of a coddled Austrian archduchess into the reckless, powerful, beautiful queen Marie Antoinette.
 
Why must it be me? I wondered. When I am so clearly inadequate to my destiny?

Raised alongside her numerous brothers and sisters by the formidable empress of Austria, ten-year-old Maria Antonia knew that her idyllic existence would one day be sacrificed to her mother's political ambitions. What she never anticipated was that the day in question would come so soon.

Before she can journey from sunlit picnics with her sisters in Vienna to the glitter, glamour, and gossip of Versailles, Antonia must change everything about herself in order to be accepted as dauphine of France and the wife of the awkward teenage boy who will one day be Louis XVI. Yet nothing can prepare her for the ingenuity and influence it will take to become queen.

Filled with smart history, treacherous rivalries, lavish clothes, and sparkling jewels, Becoming Marie Antoinette will utterly captivate fiction and history lovers alike.

Praise for Becoming Marie Antoinette

"A thoroughly enjoyable novel, brimming with delightful details. Grey writes eloquently and with charming humor, bringing 'Toinette' vividly to life as she is schooled and groomed—molded, quite literally—for a future as Queen of France, an innocent pawn in a deadly political game."—Sandra Gulland, bestselling author of Mistress of the Sun and the Josephine Bonaparte trilogy

"In her richly imagined novel, Juliet Grey meticulously recreates the sumptuous court of France's most tragic queen. Beautifully written, with attention paid to even the smallest detail, Becoming Marie Antoinette will leave readers wanting more!"—Michelle Moran, bestselling author of Madame Tussaud

"A lively and sensitive portrait of a young princess in a hostile court, and one of the most sympathetic portrayals of the doomed queen."—Lauren Willig, bestselling author of the Pink Carnation series
 
"Wonderfully delectable and lusciously rich, an elegant novel to truly savor. Juliet Grey's Marie Antoinette is completely absorbing."—Diane Haeger, author of The Queen's Rival

"[A] sympathetic take on the fascinating and doomed Marie Antoinette."—Publishers Weekly
About the Author
---
Juliet Grey is the author of Becoming Marie Antoinette and Days of Splendor, Days of Sorrow. She has extensively researched European royalty and is a particular devotee of Marie Antoinette, as well as a classically trained professional actress with numerous portrayals of virgins, vixens, and villainesses to her credit. She and her husband divide their time between New York City and Washington, D.C.
Praise For…
---
"A thoroughly enjoyable novel, brimming with delightful details. Grey writes eloquently and with charming humor, bringing 'Toinette' vividly to life as she is schooled and groomed—molded, quite literally—for a future as Queen of France, an innocent pawn in a deadly political game."—Sandra Gulland, bestselling author of Mistress of the Sun and the Josephine Bonaparte trilogy

"In her richly imagined novel, Juliet Grey meticulously recreates the sumptuous court of France's most tragic queen. Beautifully written, with attention paid to even the smallest detail, Becoming Marie Antoinette will leave readers wanting more!"—Michelle Moran, bestselling author of Madame Tussaud

"A lively and sensitive portrait of a young princess in a hostile court, and one of the most sympathetic portrayals of the doomed queen."—Lauren Willig, bestselling author of the Pink Carnation series
 
"Wonderfully delectable and lusciously rich, an elegant novel to truly savor. Juliet Grey's Marie Antoinette is completely absorbing."—Diane Haeger, author of The Queen's Rival

"[A] sympathetic take on the fascinating and doomed Marie Antoinette."—Publishers Weekly

"An extremely compelling read. The author blends very intricately detailed research with a narrative that is stunning in its poignancy."—The Elliott Review

"Readers will see Marie Antoinette in a whole new light...A sympathetic and engaging read that presents the French queen in a manner seldom found in other novels...Anyone interested in French history will savor every page of this novel."—BookLoons

"Juliet Grey's writing is exquisitely detailed and I enjoyed her lush descriptions of the clothing and decor of the time period. Grey possesses the rare ability to transform readers to a past only accessible by imagination. Becoming Marie Antoinette is sure to appeal to lovers of quality historical fiction as well as those who are simply fascinated by Marie Antoinette."—The Well Read Wife

"Fans of historical fiction will eat this one up. It's engaging, smart and authentic. Grey has done her homework."—January Magazine

"A lusciously detailed novel of Marie Antoinette's rise to power and the decadent, extravagant lifestyles of 18th-century Versailles."—Shelf Awareness

"This is historical fiction at its finest."—A Library of My Own

"A fascinating ride and I'm looking forward to the next book."—Endless Reading

"Well-researched and lovingly written with sparkling details--this new trilogy is not one to be missed by any lover of historical fiction or Marie Antoinette centered works. This book leaves you wanting more."—Stiletto Storyline

"Becoming Marie Antoinette is a well researched and interesting novel.  For me, it's a fine example of what good historical fiction should be--it sticks to the facts and just uses the fiction genre to fill in emotions and conversations."—Tiny Library