A Dangerous Inheritance: A Novel of Tudor Rivals and the Secret of the Tower (Hardcover)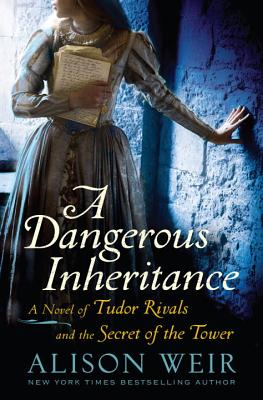 Email or call for price
Special Order - Subject to Availability
Staff Reviews
---
Alison Weir's A Dangerous Inheritance: A Novel of Tudor Rivals and the Secrets of the Tower is an absorbing historical novel that explores the entwining lives of Kate Plantagenet and Katherine Grey.  At first glance, you wouldn't think the two have much in common other than living in dangerous and scheming times.  Kate's father is Richard III, the infamous king who usurped his nephew for the throne and possibly murdered both of his nephews in the famous London Tower.  Katherine's sister was Jane Grey who snatched the throne from Mary Tudor after the death of Edward VI and was queen for eight days.  This means that almost a hundred years separate the girls lives, but both begin to question the deaths of princes in the tower and their fickle monarchs' rule.
Weir is one of the best historical writers.  She does such meticulous research for both her fiction and non-fiction and it really shows in her writing.  I never wonder if things are true when reading her fiction because I know she is constantly researching and writing history texts as well.  However, I do love it when she gives her own flare to history by writing historical fiction.  Her descriptions are so picturesque and detailed that I instantly feel transported back in time.  I really loved this novel, but would  suggest that you read a few other Tudor and War of the Roses books before reading this book.  If you are not familiar with the "big players" of each of the time periods you might find yourself, at times, confused with who is talking and what the overall plot is for that character.  That being said, this is a great companion novel to Weir's past work Innocent Traitor: A Novel of Lady Jane Grey.  It was fun to read Katherine's story after hearing Jane's.  As always, I am sad to finish her book and can't wait for her next one.
— Jody
Description
---
In this engrossing novel of historical suspense, New York Times bestselling author Alison Weir tells the dramatic intertwined stories of two women—Katherine Grey and Kate Plantagenet—separated by time but linked by twin destinies . . . . involving the mysterious tragic fate of the young Princes in the Tower.
 
When her older sister, Lady Jane Grey, the Nine Days' Queen, is executed in 1554 for unlawfully accepting the English crown, Lady Katherine Grey's world falls apart. Barely recovered from this tragic loss she risks all for love, only to incur the wrath of her formidable cousin Queen Elizabeth I, who sees Katherine as a rival for her insecure throne.
 
Interlaced with Katherine's story is that of her distant kinswoman Kate Plantagenet, the bastard daughter of Richard III, the last Plantagenet king. In 1483, Kate travels to London for Richard's coronation, and her world changes forever.
 
Kate loves her father, but before long she hears terrible rumors about him that threaten all she holds dear. Like Katherine Grey, she falls in love with a man who is forbidden to her. Then Kate embarks on what will become a perilous quest, covertly seeking the truth about what befell her cousins the Princes in the Tower, who may have been victims of Richard III's lust for power. But time is not on Kate's side, or on Katherine's.
 
Katherine finds herself a prisoner in the Tower of London, the sinister fortress that overshadowed the lives of so many royal figures, including the boy princes. Will Elizabeth demand the full penalty for treason? And what secrets will Katherine find hidden within the Tower walls?
 
Alison Weir's new novel is a page-turning story set within a framework of fascinating historical authenticity. In this rich and layered tapestry, Katherine and Kate discover that possessing royal blood can prove to be a dangerous inheritance.

Praise for A Dangerous Inheritance
 
"Highly compelling [with] plenty to keep readers enthralled."—Historical Novel Review
 
"A page turner . . . too juicy to put down . . . Alison Weir's strong suit as a fiction writer is making her novels living history."—The Courier-Journal
 
"With its evident in-depth research and creative twists, this tale of two women trying to make sense of the power of the English crown . . . is nothing short of riveting."—Library Journal (starred review)
 
"No one alive knows as much about the Tudors as Weir. . . . Any reader of Hilary Mantel's excellent Tudor evocations will want to explore this book as well."—Kirkus Reviews
 
"Stunning . . . A richly layered cake of love, sex, danger, death, and mystery."—Sunday Express (UK)
About the Author
---
Alison Weir is the "New York Times" bestselling author of the novels "Captive Queen, Innocent Traitor, " and "The Lady Elizabeth" and several historical biographies, including "Mary Boleyn, The Lady in the Tower, Mistress of the Monarchy, Henry VIII, Eleanor of Aquitaine, The Life of Elizabeth I, " and "The Six Wives of Henry VIII." She lives in Surrey, England, with her husband.
Praise For…
---
"Highly compelling [with] plenty to keep readers enthralled."—Historical Novel Review
 
"A page turner . . . too juicy to put down . . . Alison Weir's strong suit as a fiction writer is making her novels living history."—The Courier-Journal
 
"With its evident in-depth research and creative twists, this tale of two women trying to make sense of the power of the English crown . . . is nothing short of riveting."—Library Journal (starred review)
 
"No one alive knows as much about the Tudors as Weir. . . . Any reader of Hilary Mantel's excellent Tudor evocations will want to explore this book as well."—Kirkus Reviews
 
"Stunning . . . A richly layered cake of love, sex, danger, death, and mystery."—Sunday Express (UK)