Winds of Salem: A Witches of East End Novel (Paperback)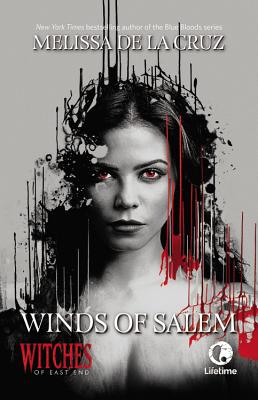 Other Books in Series
This is book number 3 in the Witches of East End series.
Staff Reviews
---
Winds of Salem is the third book in the Witches of East End series by Melissa de la Cruz and it is just as fun and sexy as the previous two novels.  Freya has mysteriously been swept back in time to 1692 and finds herself caught up in the Salem witch trials – for a second time.  Only she doesn't realize that she is living this life again since her memory has been erased.  As she attempts to be a good Puritan woman, her sister and mother are desperately trying to find a way to bring her back to the twenty – first century.  Although, the world of magic seems to be dwindling and the two are finding it hard to go back in time to rescue Freya.
I found the beginning to be a little slow as we are introduced to Salem Village and all of the girls involved in the witch hunt.  However, things are always crazy in the twenty-first century with Ingrid and Joanna.  I really liked how much Freddie was involved in this novel.  His life seems  a bit chaotic, and lets face it, we want to know what happened to his trident and the bridge, so it was fun to see him more of a main character this time.  I think my favorite part about this series is that it follows one family.  They are all a little quirky (after all they are goddess and gods trapped on earth) but they are all so warm and entertaining.  The family members don't interact that much but they are willing to do anything for their family and friends.   If you are looking for a  new paranormal romance series to start, this would be a excellent choice.
— Jody
Description
---
From the bestselling author of the Blue Bloods and The Descendants series comes the third installment in the fantastical Witches of East End series.

Freya Beauchamp is trapped in 1692, in Salem of all places, with no recollection of her past. A powerful enemy spell has sent her spiraling away so that she is separated by centuries from her mother, Joanna, and sister, Ingrid. This is not good news for a twenty-first-century witch. Not to mention the immediate threat she faces from the wealthy and influential Putnam family. When little Annie Putnam is one of the first to make accusations of witchcraft, her landowner father jumps at the opportunity to consolidate his power and expand his holdings in Puritan Salem Town. If Freya is caught using magic, she will be forced to relive the witch trials, and this time, her immortality will be in question.

Meanwhile, twenty-first-century North Hampton has its own snares. Joanna and Norm consult the Oracle for advice, and Freddie and his pixie allies search for a missing totem that could reopen the passages of time and help bring his sister home. When Ingrid bumps into an old flame, she finds that her new love for Detective Matt Noble is in doubt. Moving between past and present, with dizzying plot twists and page-turning suspense, Winds of Salem is sure to bewitch fans old and new.
About the Author
---
Melissa de la Cruz is the author of many bestselling novels, including all the books in the Blue Bloods series and Witches of East End. She lives in Los Angeles, California with her husband and daughter, and continues to be a hitmaker for both adult readers and her YA fans.
Praise For…
---
"Move over, zombies, vampires, and werewolves, and make way for witches!"—Entertainment Weekly

"If you love suspense and magic, you will find both with a clever dash of humor."—SeattlePI.com