The Blue Bistro: A Novel (Mass Market)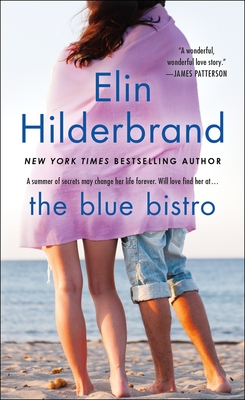 $8.99
Usually Ships in 1-5 Days
Staff Reviews
---
The Blue Bistro by Elin Hilderbrand is a wonderful summer read filled with ocean life and endearing characters . Adrienne has decided she needs to change her life, specifically her views towards the men she dates. She has uprooted her life in Colorado and moved to Nantucket in an attempt to get her life back in order. On her first morning in town, Adrienne heads to the hottest restaurant in town, The Blue Bistro, in search for a job. She immediately wins over the owner Thatcher and is tossed into the crazy, but very lucrative position of staff manager. However, the bistro has its own secrets and a very mysterious chef. Not to mention this is the last season the bistro will be open, although no one knows why that is. Adrienne is determine to focus on her new job, but she soon finds herself falling in love with the restaurant and everyone who works there. The only downfall is that the season is almost over and everything will soon change. Hilderbrand creates such a charming setting. It was so easy to fall in love with the summer life of Nantucket. Her characters were engaging and at times mysterious. She did such a fabulous job of showing the characters' joys and their pain making them easy to relate to. If you need a new contemporary fiction author, Hilderbrand would be a great choice. Her stories always have realistic characters and satisfying endings.
— Jody
Description
---
Infused with intimate Nantucket detail and filled with the warmth of passion and the breeze of doubt, The Blue Bistro is perfect summer reading.
Adrienne Dealey has spent the past six years working for hotels in exotic resort towns. This summer she has decided to make Nantucket home. Left flat broke by her ex-boyfriend, she is desperate to earn some fast money. When the desirable Thatcher Smith, owner of Nantucket's hottest restaurant, is the only one to offer her a job, she wonders if she can get by with no restaurant experience. Thatcher gives Adrienne a crash course in the business...and they share an instant attraction. But there is a mystery about their situation: what is it about Fiona, the Blue Bistro's chef, that captures Thatcher's attention again and again? And why does such a successful restaurant seem to be in its final season before closing its doors for good? Despite her uncertainty, Adrienne must decide whether to open her heart for the first time, or move on, as she always does.
About the Author
---
Elin Hilderbrand is the author of The Island, Nantucket Nights, Summer People and The Blue Bistro, among others. She grew up in Collegeville, Pennsylvania, and is a graduate of the Johns Hopkins University and the University of Iowa Writers' Workshop, where she was a teaching/writing fellow. Her short fiction has appeared in Seventeen, The Massachusetts Review, and The Colorado Review. She lives with her husband, Chip Cunningham, and their two sons in Nantucket, Massachusetts.
Praise For…
---
"A perfectly enjoyable beach book." —Publishers Weekly
"Hilderbrand keeps thing moving briskly in between sumptuous descriptions of food, drink, and tableware, throwing in an in-depth lesson on the restaurant business for good measure. Fun, stylish, and absorbing vacation reading." —Booklist
"Hilderbrand adds depth to the novel with her multifaceted characters. The restaurant comes alive with believable conflicts between the staff and patrons. But the love story between Adrienne and Thatcher is the jewel of the novel. Together they discover the meaning of devotion and the rarity of real love." —Romantic Times BOOKclub Magazine
"This brand-new book is sure to become a summer favorite." —ReadersDigest.com (chosen as their #1 Unforgettable Beach Read)
"A wonderful, wonderful love story…the kind that you read, then recommend to many, many friends--and so, I recommend it to you. Highly." —James Patterson, bestselling author of Suzanne's Diary for Nicholas