Still Life (Mass Market Paperbound)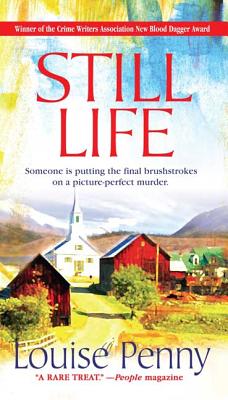 Staff Reviews
---
Louise Penny is an extraordinary mystery writer.  If you haven't read one of her books,  you really need too.  Her descriptions are fantastic.  The instant you pick up her book you are transported to a small town in Canada and immersed into the town drama.  Her characters are gripping and so well developed;  you feel their suffering and their joy.  Still Life is the first book in Penny's series.  Jane Neal has been found dead in the woods outside the small town of Three Pines.  Inspector Armand Gamache is called in to investigate the death.  He suspects that her death is not an accident as everyone assumes, but in fact something far more sinister.
Penny really uses her titles in amazing ways.  In Still Life Penny not only  discusses this term in an artistic way, but also in regards to the stagnate life of the town people who have  become stuck in their ways.  She also uses this term in the very literal sense of "still being alive".  The characters survive no matter what obstacle presents itself.  I love how she played with the title throughout the novel.  One of my favorite things about reading is learning something new, and Penny delivers time and again. I really enjoyed the history of the Quebec and the Revolutionary war, specifically between the English and the French. I just started reading this series, and I can't get enough of it.  Thankfully there are already eight books available and the  ninth one comes out the end of August.  
As a side note, Tricia and Jody had the pleasure of meeting Louise Penny at this years BookExpo and she was as wonderful as her books.  She has a dynamic personality and is such a charming individual.  
— Tricia
Spring/Summer '09 Reading Group List
---
"I've fallen in love with a charming rural village in Canada and with a most delightful man, Chief Inspector Armand Gamache of the Surete du Quebec. Excellent characterization and plotting and a wonderful sense of humor make this a treasure to be savored. Don't miss it!"
— Susan Wasson, Bookworks, Albuquerque, NM
Description
---
Winner of the New Blood Dagger, Arthur Ellis, Barry, Anthony, and Dilys awards.
Chief Inspector Armand Gamache of the Surete du Quebec and his team of investigators are called in to the scene of a suspicious death in a rural village south of Montreal and yet a world away. Jane Neal, a long-time resident of Three Pines, has been found dead in the woods. The locals are certain it's a tragic hunting accident and nothing more but Gamache smells something foul this holiday season and is soon certain that Jane died at the hands of someone much more sinister than a careless bowhunter.
With this award-winning first novel, Louise Penny introduces an engaging hero in Inspector Gamache, who commands his forces and this series with power, ingenuity, and charm.
About the Author
---
LOUISE PENNY is the author of the #1 New York Times and Globe and Mail bestselling series of Chief Inspector Armand Gamache novels. She has won numerous awards, including a CWA Dagger and the Agatha Award (six times), and was a finalist for the Edgar Award for Best Novel. In 2017, she received the Order of Canada for her contributions to Canadian culture. Louise lives in a small village south of Montreal.
Praise For…
---
"A rare treat."
—People magazine

"It's hard to decide what provides the most pleasure in this enjoyable book: Gamache, a shrewd and kindly man constantly surprised by homicide; the village, which sounds at first like an ideal place to escape from civilization; or the clever and carefully constructed plot."
—Chicago Tribune

"Cerebral, wise and compassionate, Gamache is destined for stardom. Don't miss this stellar debut."
—Kirkus Reviews (starred review)

"Terrific. Like a virtuoso, Penny plays a complex variation on the theme of the clue hidden in plain sight."
—Publishers Weekly (starred review)

"A gem of a book."
—Booklist (starred review)

"[An] auspicious debut… [Penny's] deceptively simple style masks the complex patterns of a well-devised plot."
—Marilyn Stasio, The New York Times Book Review

"A perfectly executed traditional mystery."
—Denver Post

"A stellar debut novel. The setting is entrancing… Well done!"
—Deadly Pleasures

"A gem of a debut novel—clever, charming, with perceptively realized characters… and the enormously appealing Chief Inspector Armand Gamache. I can't wait for the next installment."
—Deborah Crombie, author of Water Like a Stone

"An excellent, subtle plot full of understanding of the deeper places in human nature, and many wise observations that will enrich the reader long after the pages are closed."
—Anne Perry, author of Long Spoon Lane

"Georges Simenon kept Maigret going for over a hundred books. It will be a delight for all of us who love detective fiction if Louise Penny can stay around long enough to do the same for Gamache."
—Reginald Hill, author of The Stranger House

"Still Life is a masterpiece of a traditional drawing room mystery, repainted in the autumnal colors of the Canadian countryside. Louise Penny is a storytelling artist."
—Julia Spencer-Fleming, author of To Darkness and to Death

"What a joy it is to discover a detective like Armand Gamache, strong, calm and charismatic and at work on a good mystery in a believable setting."
—Peter Lovesey, author of The Circle

"What a joy to read a crime novel written with such skill and integrity, strong on character and atmosphere...I couldn't put it down."
—Margaret Yorke, author of False Pretences

"Still Life is a lovely, clever book and I hope I shall be reading a lot more by Louise Penny!"
—Ann Granger, author of That Way Murder Lies