The Checklist Manifesto: How to Get Things Right (Paperback)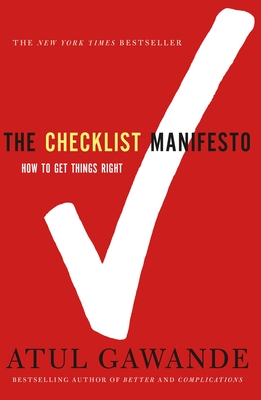 $17.00
Usually Ships in 1-5 Days
Staff Reviews
---
The Checklist Manifesto: How To Get Things Right by Atul Gawande is a fascinating non-fiction read. This book tells you why we need to write checklist in order to be more productive and efficient. Gawande claims that our world has become too complex and we are unable to deliver the information correctly, thus the need for making checklists. The key to making a good checklist is to avoid putting the tasks that are routine and will not be forgotten on the list, but instead focusing on the tasks that are often overlooked. This will then help us to avoid making little errors that can at times prove to be fatal. It is also important to make the list short. You want it to be something you can quickly run through. Gawande uses many professional examples to demonstrate how people are improving by using a simple checklist. He discusses how doctors have lists of things to double check after a surgery, such as counting to make sure all of the sponges have been removed from the patient. Gawande also discusses how pilots use checklists as well as stockbrokers. Overall, this was a great read that that I absolutely loved. You really were able to clearly see how a checklist will make you accomplish more.
— Tricia
Description
---
A New York Times Bestseller
In latest bestseller, Atul Gawande shows what the simple idea of the checklist reveals about the complexity of our lives and how we can deal with it.
The modern world has given us stupendous know-how. Yet avoidable failures continue to plague us in health care, government, the law, the financial industry—in almost every realm of organized activity. And the reason is simple: the volume and complexity of knowledge today has exceeded our ability as individuals to properly deliver it to people—consistently, correctly, safely. We train longer, specialize more, use ever-advancing technologies, and still we fail. Atul Gawande makes a compelling argument that we can do better, using the simplest of methods: the checklist. In riveting stories, he reveals what checklists can do, what they can't, and how they could bring about striking improvements in a variety of fields, from medicine and disaster recovery to professions and businesses of all kinds. And the insights are making a difference. Already, a simple surgical checklist from the World Health Organization designed by following the ideas described here has been adopted in more than twenty countries as a standard for care and has been heralded as "the biggest clinical invention in thirty years" (The Independent).
About the Author
---

Atul Gawande is author of three bestselling books: Complications, a finalist for the National Book Award; Better, selected by Amazon.com as one of the ten best books of 2007; and The Checklist Manifesto. His latest book is Being Mortal: Medicine and What Matters in the End. He is also a surgeon at Brigham and Women's Hospital in Boston, a staff writer for The New Yorker, and a professor at Harvard Medical School and the Harvard School of Public Health. He has won the Lewis Thomas Prize for Writing about Science, a MacArthur Fellowship, and two National Magazine Awards. In his work in public health, he is Executive Director of Ariadne Labs, a joint center for health systems innovation, and chairman of Lifebox, a nonprofit organization making surgery safer globally. He and his wife have three children and live in Newton, Massachusetts.
Praise For…
---
"I read The Checklist Manifesto in one sitting yesterday, which is an amazing tribute to the book that Gawande has crafted. Not only is the book loaded with fascinating stories, but it honestly changed the way I think about the world. It is the best book I've read in ages." —Steven Levitt, author of Freakonomics
"Few medical writers working today can transmit the gore-drenched terror of an operation that suddenly goes wrong--a terror that has a special resonance when it is Dr. Gawande himself who makes the initial horrifying mistake. And few can make it as clear as he can what exactly is at stake in the effort to minimize calamities." —The New York Times
"Even skeptical readers will find the evidence staggering. . . . Thoughtfully written and soundly defended, this book calls for medical professionals to improve patient care by adopting a basic, common-sense approach." —The Washington Post
"A persuasive champion of his cause." —The Economist
"The Checklist Manifesto is beautifully written, engaging, and convincingly makes the case for adopting checklists in medicine, a project to which Gawande has devoted significant time over the last several years. . . . It is in many ways the most personal of his books, a direct call to action to change the way health care is delivered through straightforward and simple, yet proven, means. It is a call that deserves to be heard and heeded." —Journal of the American Medical Association
"Gawande deftly weaves in examples of checklist successes in diverse fields like aviation and skyscraper construction. . . . Fascinating reading." —New York Times Book Review
"This is a brilliant book about an idea so simple it sounds dumb until you hear the case for it. Atul Gawande presents an argument so strong that I challenge anyone to go away from this book unconvinced." —The Seattle Times
"Fascinating . . . presents a convincing case that adopting more checklists will surely help." —Bloomberg News
"Gawande argues convincingly and eloquently." —San Francisco Chronicle
"The scope goes well beyond medicine. . . Read this book and you might find yourself making checklists for the most mundane tasks--and be better off for it." —BusinessWeek
"A vivid, punchy exposition of an intriguing idea: that by-the-book routine trumps individual prowess." —Publishers Weekly
"Maintains the balance between accessibility and precision. He manages to be vivid without being gruesome. . . ." —The Guardian (UK)
"Riveting and thought-provoking." —The Times (UK)
"Eye-popping. . . Gawande writes with vigor and clarity." —New Haven Advocate