The Dragon Factory: A Joe Ledger Novel (Paperback)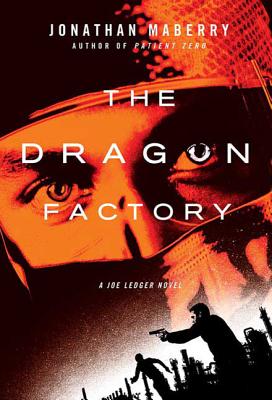 $23.99
Usually Ships in 1-5 Days
Other Books in Series
This is book number 2 in the Joe Ledger series.
Staff Reviews
---
If you love Lee Child and/or James Rollins then you must read Jonathan Maberry.  His Joe Ledger character is like Jack Reacher but with a secret science military team to back him up.  He is a martial arts expert and a cop, so he knows how to handle the bad guys when them come around.  What I really love about this series is how complex everything is.  It is never just one bad guy against Ledger, it's more like one bad guy, his grown kids, plus several other creatures lurking around reeking havoc.  The science, specifically the genetic manipulation, is taken to the extreme in Dragon Factory.  It is frightening to think what people could do, but boy does it make for an intense and crazy read.  If you are looking for a new thriller author to read, Maberry is a great choice and you will be glued to the series.
Dragon Factory is book two in the series, but it is really best to read this series in order-so SPOILER ALERT from here on out.  Joe Ledger and his team are going up against two separate geneticists.  One creating exotic transgenic monsters and mercenaries and the other is continuing the Nazi Master Race that began with Josef Mengele.  Both groups are set on bringing down Ledger and taking over the world, but Ledger is ready to go to war in order to stop them.
— Tricia
Description
---
In Jonathan Maberry's The Dragon Factory, Joe Ledger and the DMS (Department of Military Sciences) face their deadliest threat yet when they go up against two competing groups of geneticists bent on world domination.

One side is creating exotic transgenic monsters and genetically enhanced mercenary armies; the other is using 21st century technology to continue the Nazi Master Race program begun by Josef Mengele. Both sides want to see the DMS destroyed, and they've drawn first blood. Neither side is prepared for Joe Ledger as he leads Echo Team to war under a black flag.
About the Author
---
JONATHAN MABERRY is a New York Times bestselling and multiple Bram Stoker Award-winning author of Deep Silence, Kill Switch, Predator One, Code Zero, Fall of Night, Patient Zero, the Pine Deep Trilogy, The Wolfman, Zombie CSU, and They Bite, among others. His V-Wars series has been adapted by Netflix, and his work for Marvel Comics includes The Punisher, Wolverine, DoomWar, Marvel Zombie Return and Black Panther. His Joe Ledger series has been optioned for television.
Praise For…
---
"A pleasurable summer read." —Seattle Post Intelligencer

"Plenty of man-to-zombie combat, a team traitor and a doomsday scenario add up to a fast and furious read." —Publishers Weekly

"An enjoyable read, and one that's hard to set down." —Fangoria

"Heated, violent, and furious... as palatable as your favorite flavor of ice cream. [A] memorable book." —Peter Straub, New York Times Bestselling author

"Night of the Living Dead meets Michael Crichton." —Joseph Finder, New York Times bestselling author of Power Play

"A fabulous new series. Joe Ledger and the DMS have my vote as the team to beat when combatting terrorist threats on a grand scale!" —David Morrell, New York Times bestselling author of FIRST BLOOD and CREEPERS

"Brilliant, shocking, horrifying, it puts the terror back in terrorist." —James Rollins, New York Times bestselling author of The Judas Strain