Sarah's Quilt: A Novel of Sarah Agnes Prine and the Arizona Territories, 1906 (Sarah Agnes Prine Series #2) (Paperback)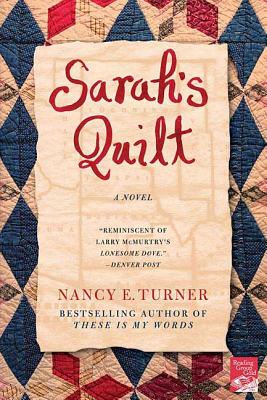 $18.99
Usually Ships in 1-5 Days
Description
---
Sarah's Quilt, the long-awaited sequel to These Is My Words, continues the dramatic story of Sarah Agnes Prine. Beloved by readers and book clubs from coast to coast, These Is My Words told the spellbinding story of an extraordinary pioneer woman and her struggle to make a home in the Arizona Territories. Now Sarah returns.
In 1906, the badlands of Southern Arizona Territory is a desolate place where a three-year drought has changed the landscape for all time. When Sarah's well goes dry and months pass with barely a trace of rain, Sarah feels herself losing her hold upon the land. Desperate, Sarah's mother hires a water witch, a peculiar desert wanderer named Lazrus who claims to know where to find water. As he schemes and stalls, he develops an attraction to Sarah that turns into a frightening infatuation.
And just when it seems that life couldn't get worse, Sarah learns that her brother and his family have been trapped in the Great San Francisco Earthquake of 1906. She and her father-in-law cannot even imagine the devastation that awaits them as they embark on a rescue mission to the stricken city.
Sarah is a pioneer of the truest spirit, courageous but gentle as she fights to save her family's home. But she never stops longing for the passion she once knew. Though her wealthy neighbor has asked her to wed, Sarah doesn't entirely trust him. And then Udell Hanna and his son come riding down the dusty road. . . .
About the Author
---
Nancy E. Turner was born in Dallas, Texas, and currently lives with her husband, John, in Tucson, Arizona. She started college when her children were grown and completed a bachelor's degree in fine arts at the University of Arizona with a triple major in creative writing, music, and studio art. During the seven years it took to complete her degree, Turner is the author of the novels, These Is My Words, The Water and the Blood and Sarah's Quilt, her sequel to the bestselling These Is My Words.
Praise For…
---
"Older, tougher, wiser, Sarah enchants with her plainspoken energy and honesty. The title may suggest a gentle tale of domestic comfort, but the book is as straightforward, gritty and persistent as the woman who inspires it and as memorable as the landscape where she carves out her life." —Publishers Weekly
"Robust, authentic, and exciting as its predecessor . . . a vividly conjured picture of her place and time." —Booklist
"Authentic in its detail, the novel's pace and intriguing cast of characters are reminiscent of Larry McMurtry's Lonesome Dove. A sensitive, vibrant story about the strength of love and family told in the voice of a woman who must be reckoned with." —Denver Post
"If you want a picture of what life was like back then, look no further. Authentic in feel, [this] is convincing historic fiction. The armchair traveler is in for an exciting trip." —The New Mexican
"Hard times, danger, love, well-defined characters and a strong sense of place all merge to form the heart of this realistic novel." —Dallas Morning News
"All the enduring elements of the mystery that is life on earth can be found between the pages of this book. It is a perfectly authentic story, beautifully executed by its author." —Michael Blake, author of Dances with Wolves and The Holy Road
"Gritty Sarah Elliot, who lassoed our hearts in These Is My Words, proves that women as well as men tamed the West." —Sandra Dallas, author of The Diary of Mattie Spenser
"Sarah Prine is the real article . . . the kind of woman that any real man will cherish, if he's lucky enough to find her, and smart enough to know it." —Don Coldsmith, author of the Spanish Bit Saga
"Action-packed. . . . We'd trust [Sarah's] judgment if a wildfire were running straight at us. We're in good hands, calloused and strong. Turner has lived in Sarah's landscape and writes with a sharp eye for the fine points of the times." —Tucson Guide Quarterly