The Second Empress: A Novel of Napoleon's Court (Paperback)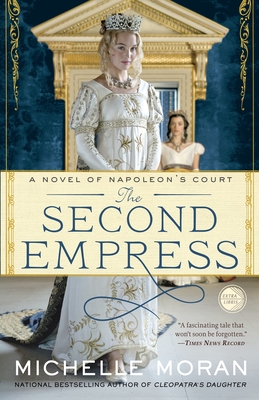 Email or call for price
Special Order - Subject to Availability
Staff Reviews
---
Michelle Moran's newest novel The Second Empress: A Novel of Napoleon's Court was an enchanting tale of madness and corruption found in Napoleon's court.   Napoleon has pulled himself up from being a boy living on the  small island of Corsica to being, at least in his mind, the next Alexander the Great.  He took control of France, took countless artifacts from his wars in Egypt, and is now setting his sights on the rest of Europe.  Marie-Louise, or Maria-Louisa to her family, has been forced to marry Napoleon or else put her entire country of Austria at war.  Napoleon is anxious for an heir and has cast aside his wife Josephine hoping to have children with his next wife.  Marie-Louise has royal blood that goes back centuries.  Royal blood is what Napoleon craves but lacks and he believes his heirs with her royal blood will be unstoppable .  Life is not easy in Napoleon's court because no one knows what will anger him and his favorite sister is  a constant rival for his attention.
This was an incredible book.   I loved that it was told from three perspectives, Marie-Louise, Pauline and Paul, Pauline's chamberlain.  Having the multiple views really lets the reader see how the court works and the manipulations involved in daily life.  Moran did such a great job of giving her novel a historic feel with her language and descriptions.  It was so easy to picture France and the beauty as well as the turmoil of living under an unstable tyrant ruler.  This is a great read for any fan of historical fiction. 
— Jody
Description
---
Emperor Napoleon Bonaparte will stop at nothing to marry the Hapsburg princess he hopes will bear him a royal heir, in this compelling novel from bestselling author Michelle Moran.
 
After the bloody French Revolution, Emperor Napoleon's power is absolute. When eighteen year old Marie-Louise is told that the Emperor has demanded her hand in marriage, her father presents her with a terrible choice: marry the cruel, capricious Napoleon or refuse and plunge her country into war. To save her father's throne, Mary-Louise is determined to be a good wife. But at the extravagant French court, she finds many rivals for her new husband's affection, including Napoleon's sister Pauline, who is fiercely jealous, utterly uncontrollable, and the only woman as ambitious as the emperor himself. When war once again sweeps the Continent and bloodshed threatens Marie-Louise's family, the second empress is forced to make choices that will determine her place in history—and change the course of her life. 

The Second Empress will transport you back to Napoleon's empire where royals and servants alike live at the whim of one man, and two women vie to change their destinies.
About the Author
---
MICHELLE MORAN's experiences at archaeological sites around the world motivated her to write historical fiction and continue to provide inspiration for her novels. She is nationally bestselling author of Nefertiti, The Heretic Queen, Cleopatra's Daughter, and Madame Tussaud. Visit her online at michellemoran.com.
Praise For…
---
"Moran has once again proven her skills as a mesmerizing storyteller with The Second Empress. She gathers her readers into the heart of the story and takes them on an adventure into a world where most would never dare venture. Moran's characters are engaging and her use of historical facts, bits and pieces of correspondence and ephemera tie this story together to create a fascinating tale that won't soon be forgotten."  
—Times Record News

"Stunning in form, theme, and plot. . . Don't hesitate to purchase this beautifully written gem, which is certain to shoot to the top of the charts, if not start a craze for everything Moran."
—Library Journal

"Colorful… [a] nicely crafted work of historical fiction."
—Romantic Times

Red Hot Book of the Week, SheKnows.com: "Michelle Moran is beloved by readers of historical fiction for her lively and well-researched novels. . . Marie-Louise may be the character that readers will love, but it is Pauline they will love to hate. . . Moran describes the end of Napoleon's empire in vivid, realistic terms. She wastes no time attempting to make the reader sympathetic for the megalomaniac Napoleon, instead providing compelling -- if not always entirely likable -- characters who must make difficult choices: What is the best way to be loyal to one's family? When does self-respect and self-worth require giving up the person you love?"
—SheKnows.com

"Compelling fiction. . . Ostensibly the portrait of Marie-Louise of Austria, who became Napoleon's second wife, the novel's title could as easily apply to the emperor's sister, Pauline. . . Another enjoyable historical from Moran."
—Publishers Weekly

"This book covers the last six years of Napoleon's reign… If you like French history you will enjoy this novel."
—British Weekly

"The Second Empress is a masterful work of fiction portraying the little known history of Napoleon's desperate attempt to acquire an heir… The Second Empress is another wonderful read by a fantastic author."
—RomanceJunkies.com