Skink--No Surrender (Skink Series #7) (Paperback)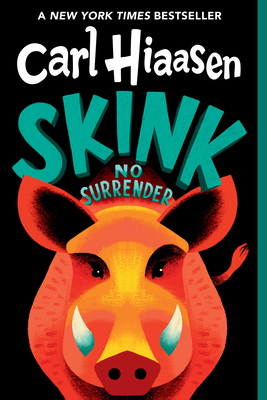 $9.99
Usually Ships in 1-5 Days
Description
---
Carl Hiaasen serves up his unique brand of swamp justice in the New York Times bestseller Skink—No Surrender.
 
A National Book Award Longlist Selection
 
When your cousin goes missing under suspicious circumstances, who do you call? There's only one man for the job: a half-crazed, half-feral, one-eyed ex-governor named Skink. Skink joins 14-year-old Richard on a breakneck chase across Florida, undaunted by lightning storms, poisonous snakes, flying bullets, and giant gators. There are a million places cousin Malley could be, a million unpleasant fates that might have befallen her, but one thing is certain: in the Florida swamp, justice is best served wild.

SUNSHINE STATE AWARD FINALIST!
About the Author
---
CARL HIAASEN was born and raised in Florida. He writes a column for the Miami Herald and is the author of many bestselling novels including Bad Monkey, Star Island, and Nautre Girl.

His books for younger readers include the Newbery Honor winner Hoot, as well as Flush, Scat, and Chomp. Skink—No Surrender was Hiaasen's first book for teens and features one of his most iconic characters, the reclusive ex-governor of Florida now known as Skink.

You can read more about Hiaasen's work at carlhiaasen.com.
Praise For…
---
"The book itself is just a wonder, part love poem about the Florida wilds, part road-trip novel, and part thriller. The second half of the book is a nail-biter to rival Cape Fear. I love Hiaasen for adults. I love Hiaasen for kids. But most of all, I love this Hiaasen, which brings the two writers together in one book."  --Cory Doctorow

"Skink and Richard make quite a dangerous and entertaining duo in a story that careens perfectly from one crazy situation to the next. Reluctant readers (especially guys) will surrender themselves to this page turner. Cross your fingers that we haven't seen the last of Skink!" -- Booklist, starred

"If you were pursuing your cousin's kidnapper across Florida, you would want a man like Skink at your side. Maybe." -- Kirkus Reviews

"Skink is larger than life.... A presence to be reckoned with." -- The Horn Book

"A high stakes, action-packed comedy with a lot of heart." —VOYA