The Girl Who Kicked the Hornet's Nest (Millennium Series #3) (Paperback)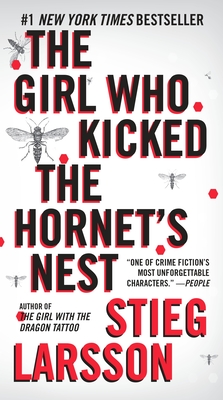 $9.99
Usually Ships in 1-5 Days
Other Books in Series
This is book number 3 in the Millennium Series series.
Staff Reviews
---
It should come as no surprise that I had to rush into the store and get a copy of Stieg Larsson's third novel to the Millennium series, The Girl Who Kicked The Hornet's Nest. I have been frantically reading it all day, and loving it. Larsson doesn't waste any time getting you back into the story, it literally picks up five minutes after the second book. The third book seems to be focusing on getting Lisbeth out of her legal problems, and I don't think this will be an easy task to complete. It does seem that Blomkvist has a plan though, well at least he keeps telling people he has a plan. This book is also giving you more background information on the Swedish governmental and legal systems, which has been fascinating to read about. Their legal system works similar to the United States, but some of the differences make it much harder to prove corruption or even if a person is innocent. I don't think this book will be quite as action packed as The Girl Who Played With Fire, but I am sure Lisbeth will still manage to surprise us. All and all, I feel like this will wrap-up the trilogy nicely, and I can't wait to get back home to read. I have been instructed to call one of my co-workers the instant I have finished so we can discuss it, evidently waiting until tomorrow is too long of a wait.
— Jody
June 2010 Indie Next List
---
"Slam dunk! In the riveting conclusion to the Millenium trilogy, Larsson ties up all loose ends, and engages our hearts and minds through the characters of Lisbeth Salander and Mikael Blomkvist."
— Jennie Turner-Collins, Joseph-Beth Booksellers, Cincinnati, OH
Description
---
In the third volume of the Millennium series, Lisbeth Salander lies in critical condition in a Swedish hospital, a bullet in her head.

But she's fighting for her life in more ways than one: if and when she recovers, she'll stand trial for three murders. With the help of Mikael Blomkvist, she'll need to identify those in authority who have allowed the vulnerable, like herself, to suffer abuse and violence. And, on her own, she'll seek revenge--against the man who tried to killer her and against the corrupt government institutions that nearly destroyed her life.


About the Author
---
Stieg Larsson, who lived in Sweden, was the editor in chief of the magazine Expo and a leading expert on antidemocratic, right-wing extremist and Nazi organizations. He died in 2004, shortly after delivering the manuscripts for The Girl with the Dragon Tattoo, The Girl Who Played with Fire, and The Girl Who Kicked the Hornet's Nest.
Praise For…
---
"One of crime fiction's most unforgettable characters." —People
 
"A caffeine rush. . . . Larsson was one of those rare writers who could keep you up until 3 a.m. and then make you want to rush home the next night to do it again." —Newsweek
 
"Gripping. . . . Lisbeth Salander . . . is one of the most original characters in a thriller to come along in a while." —The New York Times
 
"Anyone who enjoys grounding their imaginations in hundreds . . . of exciting pages about the way we live now ought to take advantage of this trilogy." —Chicago Tribune
 
"Exhilarating. . . . Larsson's was an undeniably powerful voice in crime fiction that will be sorely missed." —Publishers Weekly
 
"The pages fly. . . . The pulse quickens." —The Boston Globe
 
"A wild, careening ride." —The Philadelphia Inquirer
 
"The action is wham-bam from the start. . . . [with] an eye-popping surprise ending." —St. Louis Post-Dispatch

"Fully lives up to the excellence of the previous two and . . . brings the saga to a satisfactory conclusion. . . . A modern masterpiece." —The Washington Post Book World
 
"[Lisbeth Salander] bursts off the page, a vibrant, forcefully 'real' character." —The Plain Dealer
 
"Enough twists to keep even the most astute reader guessing." —The Denver Post
 
"Complex, satisfying, clever, moral . . . This is a grown-up novel for grown-up readers, who want something more than a quick fix and a car chase." —The Guardian (London)
 
"An old-fashioned, well-paced political thriller with its roots in Swedish history and a cast of interesting and colorful characters."—Pittsburgh Post-Gazette
 
"Reading Stieg Larsson produces a kind of rushr—rather like a strong cup of coffee." —The New York Times Book Review
 
"Salander herself is a magnificent creation: a feminist avenging angel." —Irish Independent
 
"Relentlessly exciting. . . . A fitting ending to an outstanding crime trilogy. Larsson deserves every scrap of his reputation as a master storyteller." —Time Out London