The Accident Season (Paperback)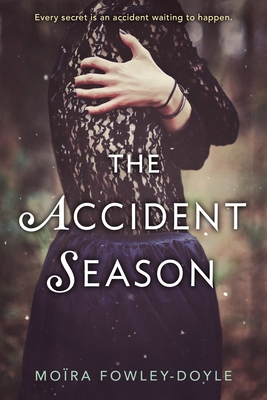 $10.99
Usually Ships in 1-5 Days
Staff Reviews
---
Moira Fowley-Doyle's debut novel The Accident Season is sure to be a must read YA novel. Every October Cara's family lives through the accident season. This is a time when everyone in the family gets more bruises, scrapes, and broken bones and this year is shaping up to be one of the worst. However, the accident season is not just physical pain but in fact goes much deeper.
Fowley-Doyle's writing is so elegant that you are instantly caught up in her story. Her descriptions are vivid and imaginative. I love the dream world that Cara envisions around her and her friends, as well as the magical realism that she weaves throughout the novel. It was fun not knowing what was causing the accident season or if there even was a cause. I enjoyed the turn the book takes in the middle and I was surprised and satisfied with the ending. This is a book that will haunt you long after you are finished. 
— Jody
Description
---
For fans of We Were Liars and The Ocean at the End of the Lane comes a haunting magically realistic debut about a family caught between a violent history, a taboo romance, and the mysteries lurking in their own backyard.
Every October Cara and her family become inexplicably and unavoidably accident-prone. Some years it's bad, and some years it's just a lot of cuts and scrapes. This accident season--when Cara, her ex-stepbrother, Sam, and her best friend, Bea, are 17--is going to be a bad one. Cara is about to learn that not all the scars left by the accident season are physical: There's a long-hidden family secret underneath the bumps and bruises. This is the year Cara will finally fall desperately in love, when she'll start discovering the painful truth about the adults in her life, and when she'll uncover the dark origins of the accident season--whether she's ready or not.
* "Fowley-Doyle's stunning debut novel weaves the temporal and the spiritual into a seamless reality, rich in emotional impact . . . This thought-provoking narrative will cast its spell over older teens and adults alike."--School Library Journal, starred review * "Ghosts, secrets, and magic collide in this Irish author's astonishing debut . . . a moving portrait of a fractured family, knitting itself back together with courage and love. A powerful novel from an exciting new talent."--Kirkus, starred review
About the Author
---
Moira Fowley-Doyle is half-French, half-Irish and lives in Dublin with her husband, their young daughter, and their old cat. Moira's French half likes red wine and dark books in which everybody dies. Her Irish half likes tea and happy endings. Moira started a PhD on vampires in young adult fiction before concentrating on writing young adult fiction with no vampires in it whatsoever. She wrote her first novel at the age of eight, when she was told that if she wrote a story about spiders she wouldn't be afraid of them anymore. Moira is still afraid of spiders, but has never stopped writing stories. Follow her on Twitter @moirawithatrema.