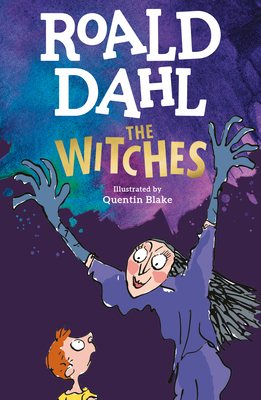 $7.99
Usually Ships in 1-5 Days
Staff Reviews
---
Roald Dahl's novel The Witches is a perfect summer read for your nine year old (and up) . Growing up, Grandmamma always told stories about witches and how much they hated children. Her grandson found this out the hard way when he met The Grand High Witch and is turned into a mouse. Now he and his new friend Bruno, also captured and changed into a mouse by the witch, must find a way to save all the children in England from becoming mice.
Dahl has such a great way of creating unique and fun characters. His storytelling is filled with humor and wit that is certain to keep all ages interested. It is also refreshing to see how empowering Dahl makes his children characters. He puts them in challenging situations and makes them solve problems that often encompasses the entire world of children. If you are looking for a book to read aloud with your younger reader, this would be a perfect choice. The story is filled with amazing descriptions and engaging dialogue that is excellent for dramatic reading.
— Sherry
Description
---
From the bestselling author of Charlie and the Chocolate Factory and The BFG! 

This is not a fairy tale. This is about real witches.

Grandmamma loves to tell about witches. Real witches are the most dangerous of all living creatures on earth. There's nothing they hate so much as children, and they work all kinds of terrifying spells to get rid of them. Her grandson listens closely to Grandmamma's stories—but nothing can prepare him for the day he comes face-to-face with The Grand High Witch herself!
About the Author
---
Roald Dahl (1916-1990) was born in Wales of Norwegian parents. He spent his childhood in England and, at age eighteen, went to work for the Shell Oil Company in Africa. When World War II broke out, he joined the Royal Air Force and became a fighter pilot. At the age of twenty-six he moved to Washington, D.C., and it was there he began to write. His first short story, which recounted his adventures in the war, was bought by The Saturday Evening Post, and so began a long and illustrious career.

After establishing himself as a writer for adults, Roald Dahl began writing children's stories in 1960 while living in England with his family. His first stories were written as entertainment for his own children, to whom many of his books are dedicated.

Roald Dahl is now considered one of the most beloved storytellers of our time. Although he passed away in 1990, his popularity continues to increase as his fantastic novels, including James and the Giant Peach, Matilda, The BFG, and Charlie and the Chocolate Factory, delight an ever-growing legion of fans.

Learn more about Roald Dahl on the official Roald Dahl Web site: www.roalddahl.com